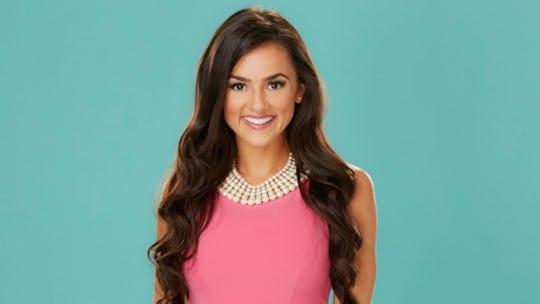 CBS
Who Is Natalie Negrotti On 'Big Brother 18'? She's Tougher Than She Looks
Each addition to the Big Brother house is a wild card. They might prove themselves adept enough to cause a lot of trouble, or even take home the prize in the end. Or they could just provide a lot of entertainment on their way out. The mix of personalities could end up being explosive – or at least viewers hope they will be. Each person in the house could easily change the game, but before trying to figure that out, you have to get to know them first. So, who is Natalie Negrotti on Big Brother 18?
Natalie is a 26-year-old event coordinator from Caracas, Venezuela who now calls New Jersey home. She describes herself as "altruistic, athletic, and beautiful," so we know she's humble. Will Natalie prove herself to be Mother Teresa with a blow-out? And if she does, would that really help her land herself a win? The info provided in Natalie's Big Brother bio doesn't seem to lend itself to winning a reality competition, but looks can be deceiving. Luckily no one comes on this show without some kind of plan in place, and Natalie intends to use her unthreatening demeanor to her advantage.
Amongst her favorite activities, Natalie lists shopping a grand total of three times. She's also a fan of makeup, getting dressed up, tanning, and pageants, as well as cooking and puppies (but who isn't a fan of puppies?). When asked what she would take with her into the house, she cites her makeup, self-tanner, and her "glitter hair spray to keep [her] hair on-point." Those might not be particularly useful tools for the matter at hand, but no hate; she sounds like a girl after my own makeup-loving heart.
Natalie is wary of living in a house with men because she's never lived with a man before, not even her father. Still, she's not going to let that stop her in her plan to use everyone in the house to her advantage. She's going to lay low initially and throw people off with a girly, innocent act before starting to level up. She intends to form an alliance with "only three women because women suck at this game and I was an NFL cheerleader for the New York Jets and know how to deal with large groups of women."
There's a lot of yikes in that, but there is usually some yikes to be expected on reality TV. Despite Natalie's discomfort about living with men and her questionably worded scheme to ally with the women, she intends to add men to the alliance too. She thinks everyone will want to join her team because she's kind but tough. Natalie thinks she will surprise everyone: "People won't expect how much adversity I faced and how tough I am because I'm so pretty."