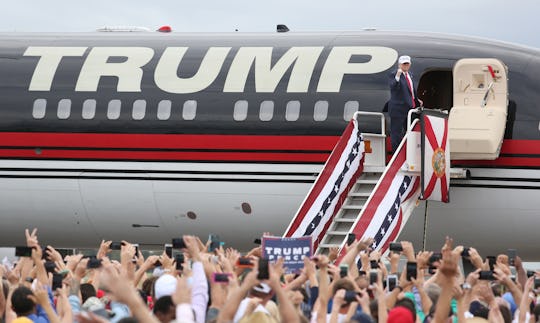 GREGG NEWTON/AFP/Getty Images
Who Is Natasha Stoynoff? The Former 'People' Writer Made A Major Accusation Against Trump
This week, multiple women told reporters that Republican presidential nominee Donald Trump sexually assaulted them in the past. Though the Trump campaign vehemently denies any misconduct, the stories emerging in the aftermath of the Access Hollywood video release are prompting voters to look at Trump through a new lens. One such story came from a reporter who covered Trump and his family for People. Who is Natasha Stoynoff? The writer claimed that her friendly relationship with Trump and wife Melania soured during a 2005 visit to Mar-a-Lago for an interview.
Stoynoff worked at People for 20 years, according to her Hay House author bio; earlier jobs included reporting for The Toronto Star and The Toronto Sun and freelancing for Time magazine. Based out of New York City, she's authored six books and had multiple New York Times best sellers. But this week, it's her article for People that catapulted her to international attention when she made serious allegations against Trump. Romper has reached out to the Trump campaign for further comment on the allegations, and is awaiting a response. Trump denied Stoynoff's story in a tweet: "Why didn't the writer of the twelve year old article in People Magazine mention the "incident" in her story. Because it did not happen!"
While at People, Stoynoff's work as a beat writer put her in contact with Trump, Politico reported. In an article for her former employer, Stoynoff shared her account of alleged abuse publicly for the first time. Stoynoff wrote in her article for People that she initially had a good relationship with Trump and his wife when she began covering them:
Melania was kind and sweet during our many chats, and Donald was as bombastic and entertaining as you would expect. We had a very friendly, professional relationship.
Stoynoff went on to share what she alleged happened to her during a December 2005 trip to Mar-a-Lago on assignment; Trump and Melania were approaching their first anniversary as a married couple, and People wanted to run a feature story. Stoynoff began the interview and photo shoot at Trump's estate in Florida. When Melania needed to make a wardrobe change, Stoynoff wrote that Trump reportedly asked to give Stoynoff a tour of the property and pointed her to one room in particular:
We walked into that room alone, and Trump shut the door behind us. I turned around, and within seconds he was pushing me against the wall and forcing his tongue down my throat.
A butler interrupted them "a minute later," according to Stoynoff, and they returned to the patio to hold for Melania. As Stoynoff and Trump waited, Trump allegedly described plans to have an affair, saying, "You know we're going to have an affair, don't you?" He reportedly went on to say:
Have you ever been to Peter Luger's for steaks? I'll take you. We're going to have an affair, I'm telling you.
He also allegedly referenced a New York Post cover referring to a past affair he had with the headline, "Best Sex I Ever Had." When Melania returned, Stoynoff finished the interview and did not reference the incident. The next day, Stoynoff got a massage at Mar-a-Lago's spa and allegedly learned that Trump had waited for her in the massage room; she ran late and reportedly learned from the massage therapist that Trump left before she arrived.
Stoynoff wrote that when she returned to work, she told a colleague what happened but ultimately decided against going to the managing editor and killing the story; she feared retaliation from Trump. Now, she's finally decided to give her account of the events in Mar-a-Lago.