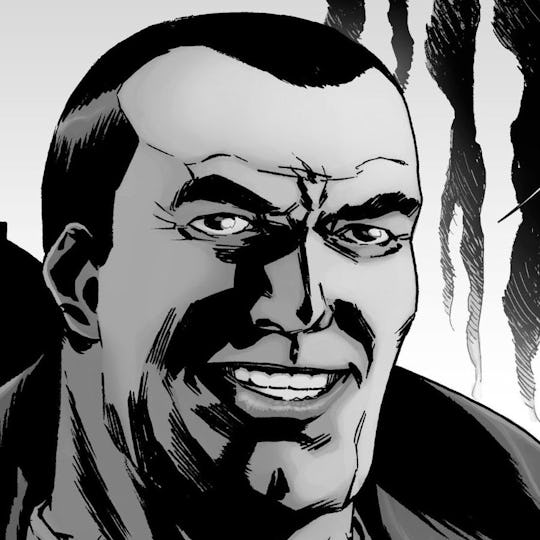 The Walking Dead/Skybound
Who Is Negan On 'The Walking Dead'? 5 Things To Know About The Show's Newest Character
After two months of heartache and anxiety, The Walking Dead's mid-season finale left viewers with. . . well. . . more heartache and anxiety. And the biggest question on fans' minds is not whether Glenn and Maggie will reunite or if Rick's gore-covered crew will make it to the armory. Rather, people are wondering who is Negan and what will this new character bring to the AMC series.
If you turned off your TV as soon as the screen went black, you may actually be wondering why people are asking about this non-existent character. But those who waited through the first five minutes of AMC's Into the Badlands were gifted with a two-minute promo for The Walking Dead's February 14 mid-season premier.
In the clip, Daryl, Sasha, and Abraham are driving a big rig towards Alexandria, when they are stopped by a group of bikers. And, much to this viewer's dismay, they were not old pals of Daryl's. Rather, they are The Saviors, a group led by Negan — a name only fans of The Walking Dead comic books would know. The leader demands the group turn over their weapons, truck, and any other possessions (even emphasizing porn, because that's still a hot commodity during the apocalypse.) Because these items no longer belong to Daryl & Co — they belong to Negan.
So who is this face-less figure demanding every pistol and porn magazine in the post-apocolyptic world? Here are five things to know about The Walking Dead's newest villain before the show returns in February.