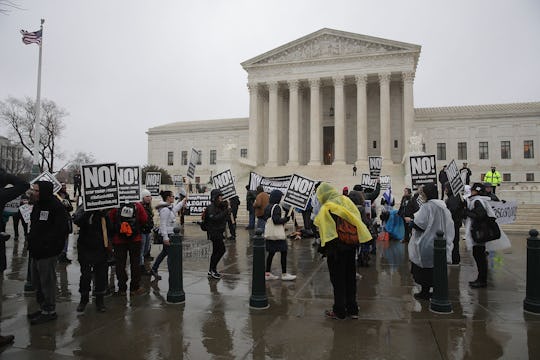 Alex Wong/Getty Images News/Getty Images
SCOTUS Contender Neil Gorsuch's Conservative Views
President Donald Trump has yet to announce a Supreme Court nominee, but according to NPR, Neil Gorsuch is one of the most likely candidates to be named. Those less familiar with Trump's potential pick might be wondering: just who is Neil Gorsuch? And what could Americans expect from him as a Supreme Court justice?
The 49-year-old Denver-based judge serves on the federal appeals court, according to Business Insider, and he has been repeatedly compared in the media to the late Justice Antonin Scalia, whom Gorsuch would be replacing in the Supreme Court. Gorsuch previously studied at Columbia, Harvard Law, and Oxford, and he has been part of the 10th Circuit since President George W. Bush nominated him for the position in 2006. He currently lives in Boulder with his wife and two daughters.
As a judge, Gorsuch is known for being an originalist — a philosophy to which Scalia also adhered — meaning he tries to interpret the Constitution as it was first interpreted when first written (200 years ago). He's also a textualist, which means he interprets laws literally, without delving into the meaning or purpose behind them.
Gorsuch is also quite conservative: In the past, according to Newsweek, he has supported religious employers who would like to limit their employees' access to contraception in their health coverage, citing their religious rights as a reason to defend them.
Gorsuch also defended the 10th Circuit's decision to throw out a lawsuit against the city of Lafayette, Colorado, when the parents of Ryan Wilson sued the police for Tasering their 22-year-old son to death. According to Newsweek, Gorsuch wrote that the officer responsible had qualified immunity due to his position as an officer. According to Business Insider, he generally errs on the side of caution when it comes to punishing what could potentially be innocent behavior.
Another position Gorsuch has become known for is his firm criticism of "executive overreach" — in other words, the concentration of power in federal agencies and the overuse of executive orders — a position that could win him supporters among both parties. He also seems to agree with handing more power over to states than to the federal government.
Whether existing Democratic justices will block a Trump pick for the Supreme Court or not remains to be seen, but some conservatives are hopeful. "I think the conservatives will love him and the liberals will find very little to fault," Mark Hansen, Gorsuch's former partner at Kellogg Huber Hansen, told CNN. "He's an affable, collegial, unpretentious man with a good sense of humor."
Others, however, disagree. Dan Goldberg, from the Alliance for Justice, called Gorsuch "extreme" and told CNN "it would be hard to overstate the damage" Gorsuch's views could cause the United States.
Whether Gorsuch will be nominated or not remains to be seen. Americans won't have to wait long, though — Trump said he would announce his Supreme Court justice pick by this coming Thursday.