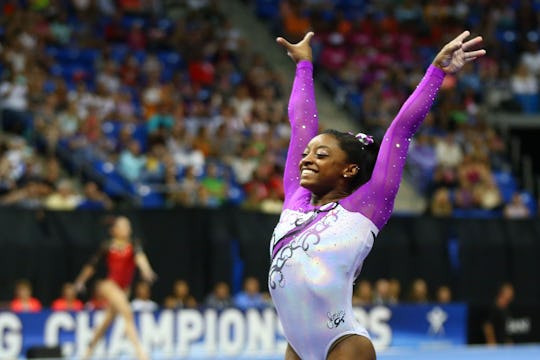 Dilip Vishwanat/Getty Images Sport/Getty Images
Who Is Nellie Biles? Simone Biles' Mother Is Her Biggest Cheerleader
When she was just 6 years old, two very important things happened in Simone Biles's life: First, her grandmother adopted her and her younger sister, Adria. Second, Biles went to her very first gymnastics class. Inspired by what she saw at that gym, Biles embarked on the path that has taken her all the way to the 2016 Summer Olympics in Rio de Janeiro, Brazil. Throughout her journey, Biles's grandmother has been by her side. Who is Nellie Biles? Simone Biles's grandmother is the woman that Simone calls "Momma Biles."
Simone Biles was born in 1997; her mother, Shanon, struggled to care for Simone, her sister, and two brothers — she battled drugs while Simone's father, disappeared from the picture, according to Texas Monthly. For the first six years of her life, all four children were shuffled from foster home to foster home. Finally, when she was 6, Ron Biles, Simone's biological grandfather, formally adopted Simone and her sister, having taken care of them when Simone was just 3 and her sister only 1 year old. Ron and Nellie Biles went from being grandparents to primary caregivers and parents to Simone and her sister. Their brothers were adopted by Ron's sister.
Since that first gymnastics class, Nellie has been more than supportive of Simone's gymnastics career.
In a May interview with Reuters, Biles spoke of the unique experience of caring for and eventually adopting her own granddaughter:
It's really hard to explain because you do not one day wake up and decide 'oh good, I'm going to be her mother and I'm going to love being her mother.' It wasn't an easy transition because they didn't have any connection to me and I didn't have any connection to them. It was a very trying time for me because they were not my children, they were related to Ron.
Despite the initial awkwardness of transition from grandmother to mom, Biles calls Simone her daughter, just as Simone calls Biles "mom." Biles is fiercely proud of both of her daughters: Simone is a 10-time world champion in gymnastics while Adria is also a gymnast, and accomplished in her own right on the junior circuit. Biles's support of her gymnast daughters goes beyond just cheering from the sidelines. In May, Nellie and Ron Biles opened the World Champions Centre, a massive 61,000-square foot gymnastics facility in Spring, Texas. When Simone made the U.S. Olympic gymnastics team, Nellie was overwhelmed with pride for her daughter, as revealed in this video from Fox 26-KRIV:
The mother-daughter bond is strong between Nellie and Simone, even though they're technically grandmother and granddaughter. As the Olympics return to the airwaves, so does P&G's #ThanksMom campaign, celebrating Olympic athletes and their mothers. In an Instagram post, Simone stands proudly with Momma Biles, with the caption: "I'm celebrating mom for always cheering me on. You should too!"
Now, more than ever, Nellie Biles will be cheering her heart out as Simone attempts to avoid the "Olympics jinx," where world champion gymnasts fail to take the podium at the Olympics. But the Olympic Games in Rio this week are the moment that Simone — and her mom Nellie — have been working toward her whole life, as Simone makes her Olympic debut. And you can bet Momma Biles will be there for every second of it.