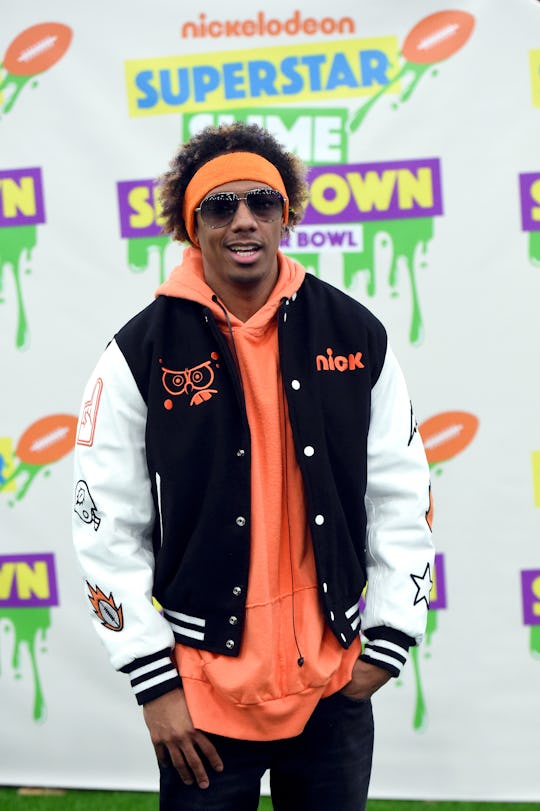 Kevin Winter/Getty Images Entertainment/Getty Images
Nick Cannon Is A Dad Again, But Who Is He Dating?
In case you missed it — and really, who could blame you when our newsfeeds are currently being taken over by daily updates on how much closer we are to the world ending — Nick Cannon has welcomed a new child to the world. The rapper, actor, television host, and father of two twins first announced the birth of his new son, Golden "Sagon" Cannon, with an Instagram post Wednesday afternoon. And since Cannon divorced from Mariah Carey back in 2016, many are wondering, who is Nick Cannon dating?
Well, the answer isn't exactly clear. And, actually, it seems that Cannon is still technically single. He confirmed that his ex-girlfriend, Brittany Bell, was pregnant back in November during a radio interview. "I gotta baby on the way," he disclosed during an interview with morning show The Breakfast Club. Cannon and the 29-year old former Miss Arizona dated for a short while back in 2015, but split up soon after. Last year, though, Bell became pregnant, and Cannon has now officially become a father of three. His other children, Moroccan and Monroe (whom he shares with ex-wife Carey), are 5 years old. Even though Carey and Cannon separated back in 2014, the two have committed to co-parenting the twins, and it definitely seems to be working.
"Weeping may endure for a night, but Joy cometh in the morning!" Cannon captioned the pic. "No matter how hard the world may hit you, God always reminds us of our purpose! #TrueHappiness Welcome to Earth Son! Golden "Sagon" Cannon 2/21/17 #Awakened." The post featured Cannon holding his new baby boy in his arms, for some precious skin to skin time.
Editor's Note: The Instagram post has since been deleted.
And if Cannon's Instagram is any indication, it's certain that little Golden will have an awesome time with his older siblings and father, whether or not his parents are together.
While Cannon and Bell seem to have a pretty friendly relationship despite their breakup, it's unlikely they're involved romantically anymore, leaving the issue of Cannon's love life unanswered. However, with three kids in his life now, as well as a bustling career and new opportunities on the horizon, it's pretty certain that Cannon will be plenty busy with or without a significant other.
Hopefully, with Cannon's new son will also come a new source of happiness, joy, and clarity for all. Congrats, Nick and Brittany! Golden is beautiful, and it's obvious you two will be great parents.