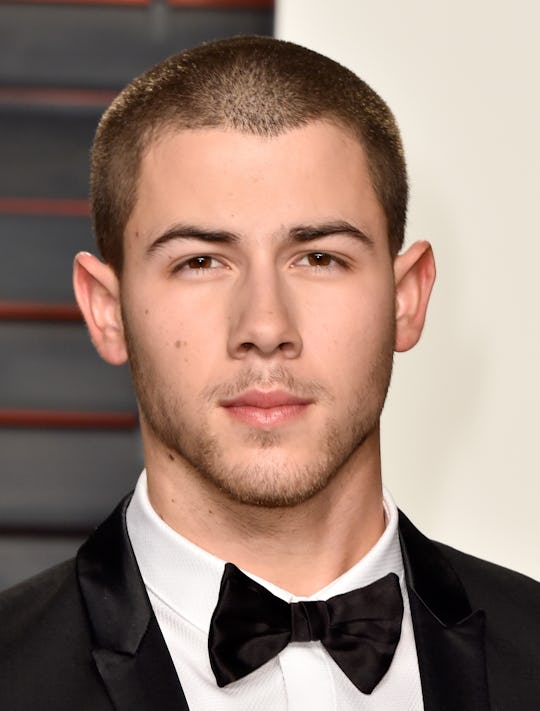 Pascal Le Segretain/Getty Images Entertainment/Getty Images
Who Is Nick Jonas Dating? He's Still Being Coy About His Status
It's no secret that Nick Jonas is an attractive man. Since he was just a young Disney star, fans (read: I) have been obsessed with his love life in hopes of somehow slipping into some magical Disney Channel Original Movie world where he finds his way into my life and we live happily ever after. I've since grown up, but I'm still curious as to who Nick Jonas is dating and what his current relationship status is quite often. (Follow him on Instagram, you'll understand the intrigue.)
Recently, Jonas' love life has been often discussed. The former JoBro has dated a slew of stars over the years (Us Weekly names "Miley Cyrus, Selena Gomez, and Delta Goodrem") but he had one of his longest relationships with Olivia Culpo. Jonas dated Culpo for two years, and the two broke up in not long ago. The Miss Universe winner (2012) and Jonas parted ways in 2015, but according to Jonas, ended on good enough terms for him to "wish the best for her in the future."
And then there's Kate Hudson. Are these two dating, or is this just something that has been drummed up for media attention? The two were linked together months ago, but have yet to confirm any type of a relationship. That's not to say that the clues aren't there that there is something going on with these two. If anything, they are friends and have a relationship. Whether that relationship is romantic, well, I'll let Jonas' response in Complex magazine answer that.
"Kate's incredible. We had an unbelievable connection as two humans who just admire things about each other, and see something in each other that's beautiful," Jonas continued. "Out of my best effort to respect her and her privacy, I'm not going to say if we had sex or not. But we did have a beautiful connection. Even now I have so much admiration and respect. She's amazing."
The singer, who will appear at the Academy of Country Music Awards, has been seen leaving dinner with the actress recently, despite the fact that neither has confirmed (or denied) the relationship. I guess only time will tell if this beautiful pairing is for real, or not.