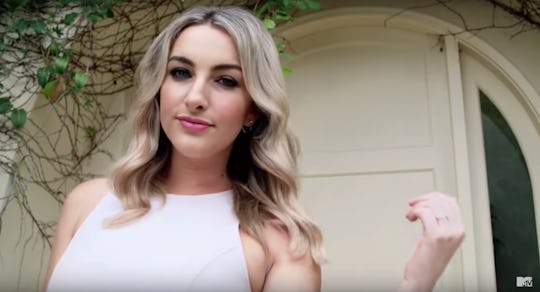 MTV
Here's Everything You Need To Know About Nicole From 'Pretty Little Mamas'
MTV is launching a brand new reality series that draws from some of its most successful franchises. Pretty Little Mamas is a high-glam, high-drama glimpse into the lives of five 20-something moms who live in an affluent area of San Diego. The leader of the pack is sure to be a controversial figure, so viewers might be wondering: who is Nicole on Pretty Little Mamas? Like all queen bees, she's both the glue that holds the group together and the wedge that drives it apart.
Nicole is a second year at San Diego State University's Communications Grad Program, which is definitely impressive considering she's also a single mom and ringleader to her group of friends. But it wouldn't be a reality show without some drama, and Nicole is never short on that. From the trailer alone, it's clear that while she has incredibly close bonds with all of these women — they've been friends since high school — she's also not afraid to tell it like it is if she ever feels attacked.
The trailer, for example, shows her getting into a scrap with Nikki at a party. Furthermore, one of the cast-mates, Chandlar, only recently rejoined the group after a three-year freeze-out following an argument with Nicole. So it definitely seems like you don't want to get on Nicole's bad side.
According to Nicole's MTV bio:
The mother of little Noelle has to juggle graduate school, her social status and motherhood — all while living at home with her parents and a full-time nanny. Nicole doesn't have the best track record with men, but hopefully her new boyfriend, Michael, is the exception. He's leaving a bad taste in everyone else's mouth, but she insists she has found The One.
In the trailer, she boldly declares, "These are my best friends since high school. We have the best life: high fashion, cute boys, and the hottest parties." And her Instagram page supports that synopsis. Her seemingly picture perfect life is tailor-made for social media, down to the Mercedes Benz she was gifted earlier this summer. Needless to say, it's a little difficult to sell this particular group as your ordinary sufferers of #momstruggles, but hey, that's why it's called escapism.
That being said, Nicole does believe there are a lot of misconceptions surrounding young motherhood, which she and her friends are out to set straight. "I think [the biggest misconception] would be if you have a kid young, your life is over," Nicole told MTV News. "I think a lot of people go 'Well, there goes your life.' For me, I feel like my life just started when I had Noelle."
Noelle, a recent pre-K grad, has a brief but brilliant cameo in the trailer where she chastises her mom's friends for blowing up her phone during their one-on-one tea party time.
"I know, that is so rude," Nicole agrees and puts her phone away. Regardless of how you feel about these moms' ~lifestyles~, it's clear that they adore their kids. Pretty Little Mamas premieres on MTV August 30.