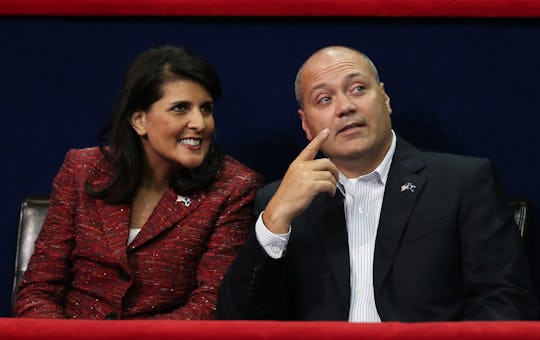 Win McNamee/Getty Images
Who is Nikki Haley Married To? The Couple Have Stuck Together Through So Much
It's almost that time again — the president's annual State of the Union address takes place on Tuesday night. For the past seven years, the Republican party has been able to sound off afterward and this year will be no different. With Tuesday's address being President Obama's last, the GOP has chosen South Carolina Gov. Nikki Haley to provide a rebuttal. While you may recognize her from her many headline grabbing moments last year, if you're not from the Palmetto State it's very likely you don't know much about Gov. Haley, including who she is married to.
In case you're looking for more information, here's what's up. Haley is married to military man Michael Haley and the couple have two children together. What do we know about Michael? For starters, he's a National Guardsman, and has been an officer since 2006. In Jan. 2013, the Huffington Post reported that Michael was deployed to Afghanistan for a yearlong mission. As part of the 3-49th Agribusiness Development Team, Michael helped Afghan farmers improve their farming practices.
Haley herself seems pretty proud of that fact (as she should be). "We are a proud military family who understands the sacrifices any family goes through when a loved one is serving his or her country," the Republican Governor wrote in a statement in 2013.
Nikki has been quite vocal about dealing with family life while Michael was deployed, noting how nervous she was the entire time he was gone. Things weren't easy for Michael either, as the Associated Press reported that improvised explosive devices (IEDs) hit his convoy on two occasions. When Michael returned from Afghanistan at the end of 2013, Haley told the news outlet that she was finally able to take her "first breath in a year."
"I think we will just appreciate [everything] more because you truly do understand your blessings," Haley said in a comment to AP reporters. "When you know you could lose a loved one ... it reminds you truly to be thankful for what you have, and it really helps you understand that a lot of the small things don't matter."
But sometimes, politics can get personal. In 2010, political blogger and campaign staffer Will Folks claimed he had an affair with Haley, claiming that he had reportedly had "romantic encounters" with the governor up until June 2007 when he met the woman who became his wife.
The Haley camp quickly smacked down these accusations, with campaign manager Tim Pearson commenting, "There is something about the days just before an election that make certain people want to get back in the newspapers." Pearson added that the rumors were patently false, and claimed that those who were "fixate[d]" on the issue (which he referred to as "nonsense") should "really should look into getting some professional help."
With that ridiculous scandal out of the way, Haley was left to focus on more important things, such as removing the Confederate flag from South Carolina's state capitol grounds and leading the fight against racism in her own party.
Whether Gov. Haley focuses on tackling the rise of mass shootings in her state, such as the June 2015 Charleston Church Shooting, family values, or the military, it's pretty much a given that she'll have plenty to talk about come Tuesday night — and it's more than likely husband Michael will be there to cheer her on too.
Images: Win McNamee/Getty Images; Chris Keane/Getty Images