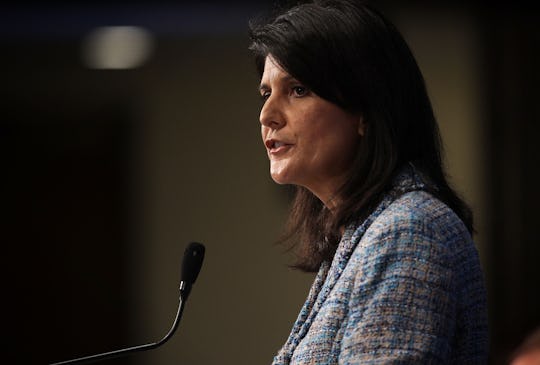 Alex Wong/Getty Images
Who Is Nikki Haley? The Republican Governor Could Be A Major Political Player Going Forward
Earlier this month, the GOP announced that Gov. Nikki Haley would be representing the Republican Party and giving the official rebuttal speech following President Obama's State of the Union address. The South Carolina governor has been making waves for a few years now and has recently been in the headlines as a potential GOP vice presidential pick going into election season. So who is Nikki Haley and what makes her so important?
Most recently, Haley made national news following the Charleston church shooting in June 2015. After nine African Americans were killed when a lone gunman opened fire on a congregation of prayer meeting attendees at Emanuel African Methodist Episcopal Church — one of the South's oldest, historically black churches — Haley advocated for the removal of the Confederate flag from Statehouse property on the grounds that it represented and antiquated, racist ideology.
In April last year, USA Today reported that Haley's quick thinking and sensitive approach to an otherwise volatile situation helped prevent violent protests after an unarmed African American man was shot by a police officer. Haley's promise to fight racism in her state also earned her acclaim in political circles, as well as an encouraging nod from GOP leaders looking for potential vice presidential candidates.
Haley's selection as the speaker to follow Obama isn't a surprise. In a statement last week, House Speaker Paul Ryan mentioned that the South Carolina native's popularity and record of "getting things done" were the reason she had been chosen to deliver the official SOTU rebuttal. With Obama teasing a non-traditional approach to his final State of the Union address, the Republican follow-up may also be a departure from precedent – something Haley would be equipped to handle well.
Though Haley has a great deal of momentum behind her going into the speech, her political record isn't perfect. According to a report by USA Today, Haley's home state of South Carolina still struggles in certain areas that could cause problems for her if she's chosen as the official VP pick. Reporter Mary Troyan explained,
South Carolina's child welfare agency has been unable to manage its child abuse and neglect cases, and dozens of children have died as a result. In 2012, Haley reimbursed the state about $10,000 for using the state plane improperly. [In addition], there remain pockets of persistent poverty and high unemployment in the state, according to state Democratic officials. They also have criticized her refusal to expand the state's Medicaid program using federal funds, which would increase access to affordable health care for many South Carolina residents.
To Republicans however, Haley is still an appealing candidate for vice president. According to her official bio, she's known for making history as "the first female and the first minority governor in South Carolina" (her parents immigrated from India); She also holds her own as the youngest United States governor. During her time in office, Haley has also claimed to have led South Carolina toward a more prosperous economy, establishing "record lows" in joblessness and creating over "70,000 jobs in 45 of 46 counties." While her critics may dispute her claims, she has more than enough support from Republicans to prop her up.
Whether Haley will be chosen for a vice presidential run is still unclear, but her address on Tuesday may play a major role in determining her political future. For that reason, it's vital that Americans watch the State of the Union at 9 p.m. ET on Jan. 12, and then stick around to find out what Haley has to say.
Images: Alex Wong/Getty Images