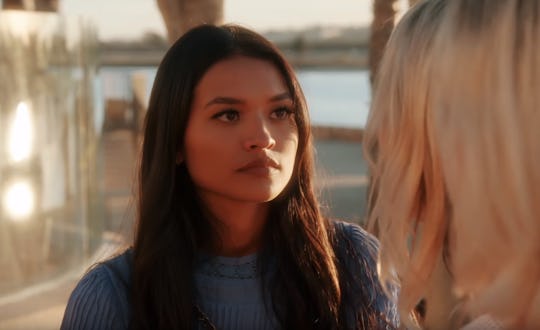 MTV/Youtube
Here Is What You Need To Know About Nikki On 'Pretty Little Mamas'
MTV's new series, Pretty Little Mamas, follows five best friends as they navigate their glamorous lifestyles in San Diego. The only catch is that they're all young moms. Four of the women — Alyssa, Cheyenne, Chandlar, and Nicole — have known each other since high school, but Nikki joined the group much later. So who is Nikki on Pretty Little Mamas, and how did she end up as part of this social circle?
Nikki is actually from Singapore, reported Us Weekly, and moved to San Diego to attend college when she was 18. Just before she and her ex-boyfriend Ryan became pregnant with their daughter Alaia, Nikki met this new group of friends, and has been part of their circle for almost four years now. It must have been nice for her to find support and friendship from other young moms, because Nikki told Us Weekly how hard it was to be young and pregnant within her native culture. "I came from a wealthy family and a conservative community in Singapore," she explained, "where it was almost taboo having a baby out of wedlock." Nikki also talked about her relationship with Ryan, and while the two aren't together, she still called their relationship a "work in progress."
According to MTV, Nikki didn't expect to get pregnant at such a young age, and after giving birth to her daughter, she decided to take her life in another direction. She is now pursuing a career as a model, and her social media presence is growing.
On her YouTube channel, Nikki has racked up thousands of subscribers who look to her for beauty and fashion advice: she has posted a ton of makeup and hair tutorials, along with product hauls and reviews. Nikki also posts regular updates about her life and her daughter, and recently put up a video plugging the premiere of Pretty Little Mamas. "I've been super preoccupied with the show that I'm on called Pretty Little Mamas," she says in the video. "I'm really excited about it, I've put in a lot of work and effort."
Whether it requires a lot of work or not, Nikki's Instagram page looks effortlessly glamorous. She has posted plenty of adorable pictures of Alaia, pictures of her Pretty Little Mamas crew, and of course tons of stylish shots of herself. Her IG page already boasts thousands of followers, and I'm sure that as the MTV show airs, those numbers are gonna grow.
As Nikki juggles motherhood and her career, the other women on the show are facing their own set of challenges. According to MTV, Alyssa, 25, is about to graduate from nursing school, while she takes care of her son Kayden, and her mother, who's health is failing, all while managing her relationship with her fiancé Brandon. Nicole, who is also 24 and in graduate school, is navigating her life at home with her parents, but luckily she has a full-time nanny and her new boyfriend Michael to lean on.
25-year-old Cheyenne is the only married mama in the group, but because her husband Teli is having a hard time keeping a steady job, she and her two kids have to live in her dad's house. Chandlar, also 25, was kicked out of the group for three years. After having her daughter, Aubrey, Chandlar's ex-boyfriend was paralyzed in a biking accident. Now expecting another baby with her current boyfriend, Aaron, who is battling an addiction to drugs.
After watching the trailer, it looks like the show will be full of glamour, drama, and thankfully a few laughs as well.
Pretty Little Mamas premieres on Thursday, August 30 at 9 p.m. ET on MTV.