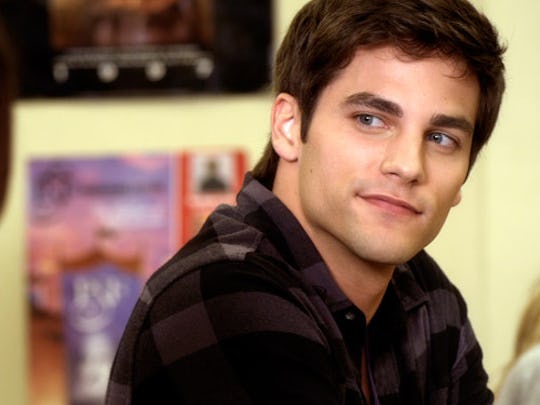 Freeform
Who Is Noel Kahn On 'Pretty Little Liars'? He's Working With Sara And Jenna
Will the real Uber A please stand up? In the past few episodes of Pretty Little Liars we've seen Dr. Rollins killed and Jenna Marshall, Sara Harvey, and Noel Kahn return to Rosewood. With the removal of the prime A.D. suspect and the return of three previous 'A' suspects it's getting hard to know what to believe anymore. Jenna, Sara, and Noel all have there reasons for wanting to harm the Liars but Noel in particular has an interesting past with the Liars. We haven't seen him since Season 5 and many of us may have forgotten who Noel Kahn is on Pretty Little Liars.
Noel has been around since the very beginning. At first he just seemed like another popular guy around school but he eventually became more and more suspicious. It all began when he dated Aria and began to suspect that something was going on between Aria and Ezra. Noel caught them in Ezra's car at Mona's "Camp Mona" party and wrote, "I SEE YOU," on the back on Ezra's car, which made the Liars believe Noel was 'A'. Noel's attempt at blackmailing Ezra to change his grade didn't help his case much either. It wasn't until Noel was suspended for cheating that the Liars began to suspect he wasn't 'A' after all.
After that Noel's been positively sketchy. He dated Mona in Season 2 and then later broke up with her and started dating Jenna. It's honestly hard to decide, which one of these girlfriends were worse but either way the fact that he dated both of them only solidified the Liars distrust of him. Then Noel surprised us all when it was revealed in Season 4 that he knew Ali was alive the whole time and had been helping her. However, it was then later revealed that Ali was blackmailing Noel into helping her but we still don't know what Ali has on him.
Now that Noel's back in Rosewood it seems we may finally get some answers. Unfortunately for the Liars his team up with Jenna and Sara may just mean even more trouble for the Liars. At this point it'll take a miracle to keep the killing of Dr. Rollins/Archer a secret from these three. Good luck ladies!