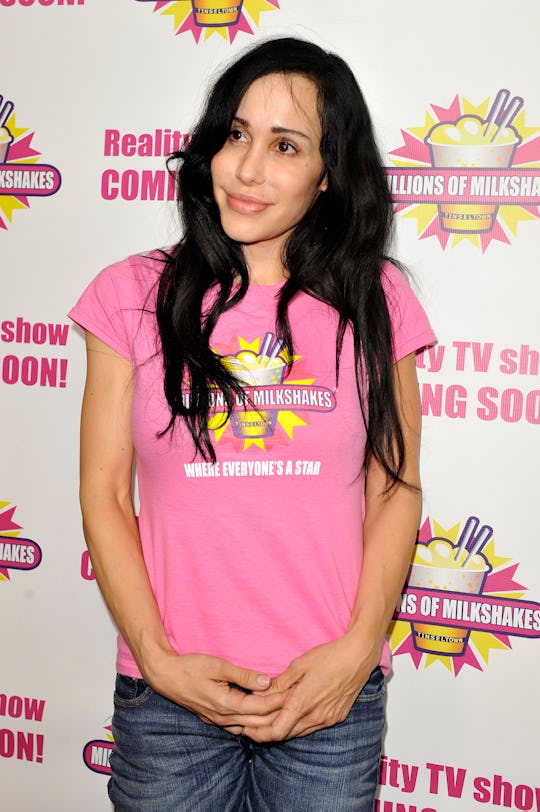 Toby Canham/Getty Images Entertainment/Getty Images
Who Is Octomom? Steven Mnuchin Called Her Out
Steve Mnuchin is a former banker and current Hollywood producer who President-elect Trump has nominated to lead the Department of the Treasury. And during his confirmation hearing on Thursday, he mentioned the most unlikely woman — Octomom. Who is Octomom? And why did Steven Mnuchin mention her during his confirmation hearing? Apparently, his bank foreclosed on her home during the housing crisis.
"The most troubling loan was actually to the Octomom and we worked very, very hard... to move her to another home," Mnuchin said referring to the reality star, Nadya Suleman, and mother of a set of eight babies, according to the International Business Times.
Mnuchin has been widely criticized for making foreclosing on people's homes a profitable business model during his time leading OneWest Bank at the height of the housing crisis, according to CNBC. During questioning, Mnuchin expressed regret for the people who lost their homes to OneWest during his time there.
He then mentioned Octomom and how the foreclosure on her home was "most troubling."
According to CNBC, foreclosure documents were filed on 2009 for a $450,000 home in La Habra, California, purchased by Suleman in 2006. The Octomom's house was finally foreclosed on and she was forced to leave in June 2012, according to TMZ.
According to CNBC, Suleman, who gave birth to eight babies at one time, became an exotic dancer and starred in pornographic films as a way to make ends meet and take care of her kids (not that that choice of career is shameful, though it isn't ideal if she chose it as a last resort or felt forced into it by her financial situation). At one point, according to TMZ, Suleman set up a GoFundMe to ask her fans for $150,000 for a down payment on another house after Mnuchin's bank foreclosed.
Mnuchin defended his bank's practices and admitted that there might have been some potential errors made. "I can assure that as chairman of the bank, I took these issues very seriously," he said according to CNBC. "There were mistakes. We regret those mistakes. We had hundreds of thousands of delinquent loans."
Today, Suleman's kids are 8 years old, and she's trying to move past her "Octomom" infamy and her money troubles, according to an interview she gave on the show The Doctors last fall.
She said about posing nude, according to Fox News:
Rather than go get more public assistance, which I already felt ashamed of, I ended up selling myself out. At the time, it was like an investment so that I could support my family. I believe the judgment I experienced was warranted because what were people supposed to believe? All they were being fed by the media was negativity.
Fox News reported she now goes by the first name Natalie and is working as a counselor. But now the Octomom moniker is back in the headlines as Mnuchin undergoes his hearings.