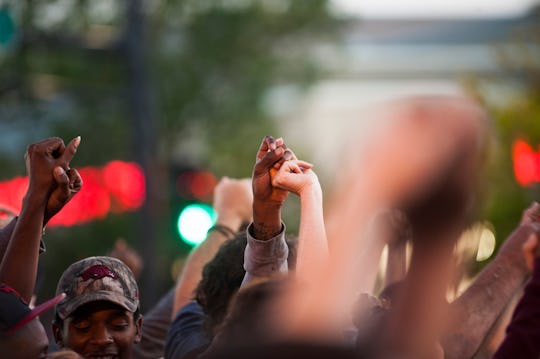 Stephen Maturen/Getty Images News/Getty Images
Who Is Officer Joseph Kauser? The Other Officer Identified In Philando Castile's Shooting
Philando Castile was shot to death in his car by a police officer on Wednesday who pulled him over for a broken tail light, according to NBC News. Castile was a 32-year-old employee of the Saint Paul Public Schools in Minnesota, who many described as a well-liked man. But, as is the case for many black lives in America – one being Alton Sterling who died at the hands of police just earlier this week – he was shot to death by a police officer, and his life is now mourned by many. On Thursday evening, Jeronimo Yanez was identified as the officer who fatally shot Castile. So, who is officer Joseph Kauser? Reportedly a four-year veteran of the police force who was at the scene of Castile's shooting.
According to NBC News, the Minnesota Bureau of Criminal Apprehension reported that both Kauser and Yanez are four-year veterans of the St. Anthony police force. The officers stopped the vehicle with Castile in Falcon Heights, a suburb of Saint Paul, Minnesota. Yanez approached the vehicle from the driver's side while Kauser reportedly approached it from the passenger's side, NBC News reported. Both Kauser and Yanez were placed on a standard administrative leave. The St. Anthony Police Department did not respond to Romper's request for comment.
"At one point during the interaction, Officer Yanez discharged his weapon, striking Castile multiple times," Minnesota Bureau of Criminal Apprehension said according to NBC. "No one else was injured. A gun was recovered at the scene."
Castile was not in the car alone. Many around the world watched his brave girlfriend's, Diamond Reynolds', heart-wrenching Facebook live-stream video showing the aftermath of Yanez shooting Castile in the car, as she sat beside him, with her 4-year-old daughter in the backseat. It is an unspeakable tragedy. A tragedy that took the life of a man who people close to him describe as cheerful, warm, and smart.
A statement issued by the Saint Paul Public Schools, described just some of Castile's admirable qualities:
Colleagues describe him as a team player who maintained great relationships with staff and students alike. He had a cheerful disposition and his colleagues enjoyed working with him. He was quick to greet former coworkers with a smile and hug. One coworker said, 'Kids loved him. He was smart, over-qualified. He was quiet, respectful, and kind. I knew him as warm and funny; he called me his 'wing man.' He wore a shirt and tie to his supervisor interview and said his goal was to one day 'sit on the other side of this table.' Those who worked with him daily said he will be greatly missed.
Castile's life was cut short, like many other black lives who are disproportionately affected by police violence. America continues to urgently need to address its long history of racism and systemic racism – painful prejudices that are still so evidently in effect every single day.