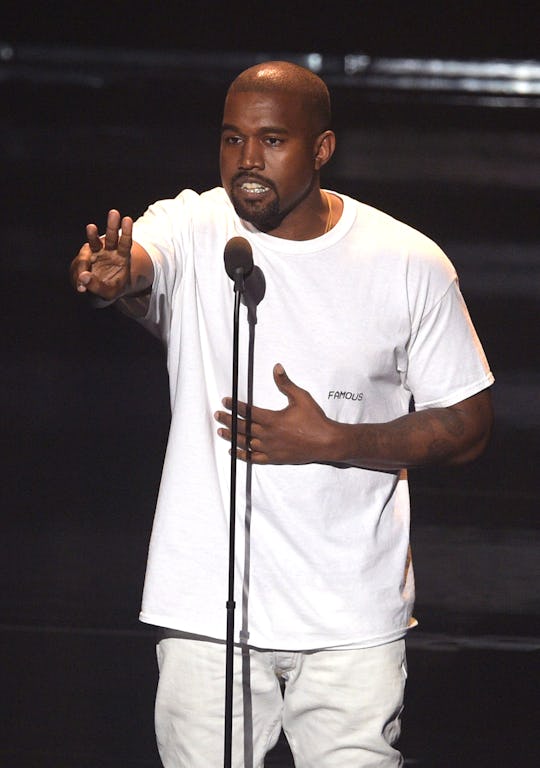 Jason Kempin/Getty Images Entertainment/Getty Images
Who Is Actually On Kanye West's Album Cover? Kim K Tweeted The Most Confusing Hint
On Thursday evening, Kanye West revealed seven new tracks off his new album, aptly titled Ye. But who is on Kanye West's album cover for the new project? No one is sure yet, because the person who was originally supposed to be on it apparently, well, isn't anymore. And the mystery of the album cover deepened further on Thursday night thanks to a cryptic tweet from his wife, Keeping Up With the Kardashians star Kim Kardashian West.
His first full-length project since the 2016 album The Life of Pablo, West's Ye is still a mystery in a lot of ways, not just when it comes to the album cover. He reportedly debuted the album during a listening party in Jackson Hole, Wyoming on Thursday evening, but it hasn't been released on any streaming services for fans at large to enjoy.
PEOPLE reported that "handpicked" entertainers like Chris Rock, Jonah Hill, Big Sean, and Pusha T were all on hand to hear West's new album, as well as some media and industry professionals. Some information about the content of the album is available, but the album cover was not released as of Friday morning.
We do know, however, that West apparently captured the album cover on his iPhone himself, thanks to a tweet from his reality TV show star wife.
Early Friday morning on the East coast, Kardashian West tweeted, "Kanye shot the album cover on his iPhone on the way to the album listening party 😂🔥❤️🔥🙏🏼🔥." And frankly, that sounds exactly like something Kanye would do.
But why did he wait until the last minute to shoot an album cover? West previously announced that the cover was supposed to be an image of Jan Adams, the plastic surgeon who operated on his mother Donda before she died in 2007, according to Heavy.
However, in response to that news, Adams wrote West an open letter, and requested that his image not be on the album. Awkward. Adams wrote to West, according to Heavy:
Unfortunately, I have to decline at this time, and I ask that you cease and desist using my photo or any image of me to promote your album or any of your work.
That's not a simple "I would rather you not use my image" request. A cease and desist is pretty serious business. West must have taken it pretty seriously, or maybe had a lot of people working with him who told him he'd better take it seriously that he listened to.
So if it's not known who or what is on West's latest album cover, what does anyone know about the project? Actually, quite a bit already. For instance, PEOPLE reported that the seven tracks feature people like Kid Cudi, Ty Dolla $ign, and even Nicki Minaj.
Ye reportedly addresses everything from West's mental health to Tristan Thompson's cheating scandal, as well as Kardashian West's reaction to West's now infamous statement that slavery was a choice, according to PEOPLE. Those are some pretty heavy topics, but West is not exactly known for going the light and fluffy route with his tracks.
On his wife's reaction to the controversial slavery comment, West rapped, according to Elle:
Wife calling screaming saying we're about to lose it all I had to calm her down 'cos she couldn't breathe, I told her she could leave me now but she wouldn't leave.
And that West added:
This is what they mean for better or for worse huh?
The album also references Russell Simmons, the #MeToo movement, and Stormy Daniels, according to The Telegraph. Talk about not limiting yourself — it sounds like West covered a little bit of everything on Ye.
While fans do have some idea of what's included on the tracks of Ye, as of Friday morning, it might be only West and his wife who know specifically what's on the cover of the album. But Ye is scheduled for release on Friday, so it shouldn't be long before everyone else knows what West picked as the cover of the album, courtesy of his personal iPhone photography skills.