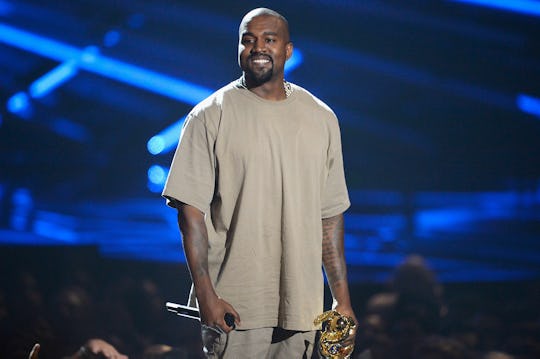 Kevork Djansezian/Getty Images Entertainment
Who Is On Kanye's Album Cover? The Small Photo Is Deeply Personal
Kanye West's long-awaited new album is being called the greatest album of all time, by Kanye West. Fans are excited, too. On Thursday, West shared the cover of the new album on Twitter. It's getting mixed reviews, but interestingly, there's a small photo in the corner of it. It appears to be a wedding photo, but who is that on Kanye's album cover? It's people near to West's heart who he doesn't often talk about publicly.
It's been three long years since West's last release, Yeezus. This new album has been a long time coming, but with so many collaborations and the alleged perfectionism of West, it makes sense that it would be a logistical and artistic struggle to the finish line. Fans following the album's release may have noticed some changes over the past few months. West has changed the name of the album three times. He had been referring to it as Swish, then announced it as Waves, and Thursday, with the release of the album cover, it appears to be called The Life of Pablo. Why all the changes? Why the indecision? One can only conclude that West has been deliberating and working intensely on this new endeavor. (So, the answer is, because he's Kanye West.)
In addition to sharing the cover art by the Belgian artist Peter de Potter, he shared the lyrics for the song titled, "Father Stretch My Hands." It's a candid look at a struggling family and reveals a more open, vulnerable West. He even tweeted about the song "I cried writing this." It discusses poverty, losing money, a struggle to communicate, and distance between a father and son. Vibe suspected that the photo on the album cover is of his parent's wedding.
As for the title of the album, MTV reported that it referred to none other than Pablo Picasso. Why? In West's 2015 lecture at Oxford University, he repeatedly mentioned to the artist and compared himself to him.
Kanye said in that speech, "My goal, if I was going to do art, fine art, would have been to become Picasso or greater." The Life of Pablo, then, could be referring to Pablo Picasso, or it could be a veiled reference to West himself, and his life as a Picasso-like artist. Given the biographical material on the album and on its cover, not to mention West' trademark lack of immodesty, the latter is very likely.
After years of teasers, West will finally debut The Life of Pablo this Thursday at his Yeezy Season 3 event for Adidas at New York's Madison Square Garden. Fans who don't have tickets to that can head to Tidal to watch the live stream.