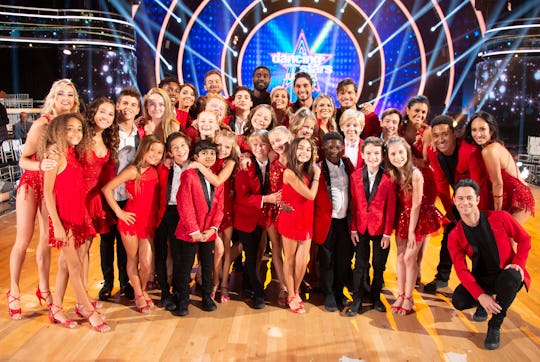 ABC/Eric McCandless
'DWTS: Juniors' Will Have You Wishing You Were A Kid Again
Now that Dancing With the Stars has stolen viewers' dance-obsessed hearts, the franchise expanded to allow celebrity children (and child pros) to compete. And it looks amazing. On Saturday, October 8, watch as 12 kid couples aim to tear up the dance floor like their adult counterparts. If you missed the adorable routine that introduced them on Tuesday's episode of DWTS, and you're asking everyone you know "who is on the cast of 'DWTS Juniors'?" Here's the rundown.
According to ABC, the Juniors version of DWTS will be hosted by actors and previous fan-favorites, Frankie Muniz and Jordan Fisher. Muniz — most known for his role in Malcom in the Middle — didn't win the Season 25 Mirrorball trophy but on coming back as a host he told ET, "I was so excited because I had such an amazing time on Dancing With the Stars." Fisher, on the other hand, did take home the prize in the same season so it's cool to see him and Muniz back together.
As far as judges, expect to see Olympic figure skater and winner of the all athletes version of DWTS, Adam Rippon, Choreographer, Mandy Moore, and DWTS pro, Val Chmerkovskiy. The fun twist comes when veteran pros mentor each kid pro and their partner. Here's how they're paired up:
Sky Brown with Pro, JT Church, & Mentor, Alan Bersten
At only 10 years old, Brown is already an accomplished skateboard and surf wonder. She's one of the youngest to place at a pro skateboarding competition and often uses her platform to empower girls. This girl's one to watch.
Akash Vukoti with Pro, Kamri Peterson & Mentor, Witney Carson
How do you spell W-I-N? OK, so I just did, but Vukoti can do me one better as the youngest boy to ever participate in the history of Scripps National Spelling Bee. Did I mention he's only 9 and first competed at 2? Yeah, I need to rethink my life now, thanks.
Alana "Honey Boo Boo" Thompson with Pro, Tristan Ianiero, & Mentor, Artem Chigvintsev
You may remember a younger version of Thomson on TLC'sToddlers and Tiaras. Though she was only 5 when the series began, she catapulted into reality-star fame with the spin-off Here Comes Honey Boo Boo and now appears with her mom, Mama June Shannon, in Mama June: From Not to Hot on WEtv.
Tripp Palin Johnston with Pro, Hailey Bills, & Mentor, Jenna Johnson
If the Palin name rings a bell, it should. 9-year-old Johnston is previous DWTS contestant Bristol's son — aka grandson of Sarah Palin.
Ariana Greenblatt with Pro, Artyon Celestine, & Mentor, Brandon Armstrong
At 11 years old, Greenblatt may not answer your burning questions about the next installment of Avengers: Infinity War because she's too busy dancing, filming The One and Only Ivan with Bryan Cranston, Sam Rockwell and Angelina Jolie, and being generally adorable. But, seriously, Thanos won't get away with what he did, right? Right?
Miles Brown with Pro, Rylee Arnold, & Mentor, Lindsay Arnold
You'll recognize 13-year-old Brown from ABC's black-ish but he's also a member of the Jr. NBA Leadership Council which should make this competition a — wait for it — slam dunk. And his pro is none other than the little sis of mentor, Lindsay Arnold. Adorbs.
Addison Osta Smith with Pro, Lev Khmelev, & Mentor, Keo Motsepe
In case you don't feel inadequate enough in the kitchen, 13-year-old, Osta, was the first girl and youngest contestant ever to win MasterChef Junior. She was only 10 and handled criticism from Gordon Ramsay like a boss, so stew on that.
Hudson West with Pro, Kameron Couch, & Mentor, Hayley Erbert
At 10 years old, West (most known for playing Jake on ABC's General Hospital) has a laundry list of credits to his name. Showtime's I'm Dying Up Here, Netflix's Grace and Frankie, Grey's Anatomy and Modern Family. It makes sense that dance would be the next logical step in his career (because there's nothing he hasn't already done).
Jason Maybaum with Pro, Elliana Walmsley, & Mentor, Emma Slater
With Maybaum's resume, you'd never know he's not the pro here. At 10, he's already starred in the Disney Channel Original Movie, Freaky Friday, and Raven's Home, the critically acclaimed Hulu movie Becoming Bond, guest-starred in Workaholics, Teachers, Blunt Talk and Superstore, and had the time to star in commercials, too. OK, Maybaum, now you're just showing off.
Sophia Pippen with Pro, Jake Monreal, & Mentor, Sasha Farber
There aren't many kids in the world who carry the last name Pippin, which means 9-year-old, Sophia, must be the daughter of legendary NBA champ, Scottie Pippin. That's not all. She's also the face of Oscar De La Rents kids and hopes to be a model and fashion designer. But first, the Mirrorball.
Mandla Morris with Pro, Brightyn Brems, & Mentor, Cheryl Burke
You might not guess it, but this 13-year-old aspiring fashion designer is the son of the legendary Stevie Wonder.
Mackenzie Ziegler with Pro, Sage Rosen, & Mentor, Gleb Savchenko
You've probably heard the name "Ziegler" before because Mackenzie and younger sister, Maddie, were on Lifetime's Dance Moms for six seasons. Aside from dancing, the 14-year-old also dabbles in acting and writing books. You know, as 14-year-olds typically do.
If you're looking at pictures of this young cast, questioning their skills at those ages, remember that age really ain't nothin' but a number. And they'll prove it.