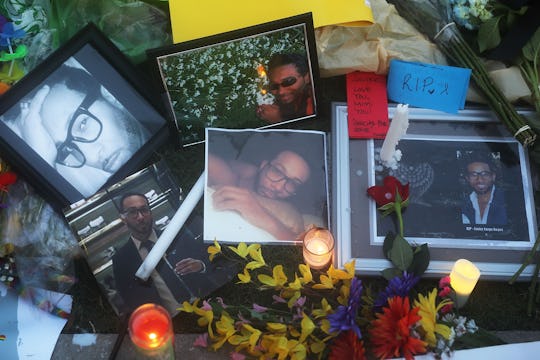 Joe Raedle/Getty Images News/Getty Images
Who is Oscar Aracena-Montero? The Orlando Shooting Victim Died With His Partner
Early Sunday morning, a gunman entered downtown Orlando LGBTQ club, Pulse, and began a shooting rampage that left at least 49 people dead and 53 others injured in one of the most deadly mass shootings in U.S. history. Just two days after that attack, authorities have released the names of all 49 people who lost their lives that morning. And included on that list was Oscar Aracena-Montero, age 26, who had recently returned from a vacation with his partner, Simon Carrillo, according to the Orlando Sentinel. The men were together in the club when the shooting started; neither of them survived, according to the Sentinel.
The Sentinel reported that Aracena and Carrillo had much to look forward to. Andrea Herrera, a friend of the couple, told the Sentinel that the pair had purchased a new home in Orlando in 2015 and lived there happily with their three pet chihuahuas. Aracena-Montero's cousin, Yamilka Pimental, added in her interview with the Sentinel that the couple had only recently returned from a vacation to New York and Canada:
He went to Canada on vacation. We saw pictures. They stopped in New York and went to Niagara Falls. They just flew back into Orlando the same day (the Pulse shootings) happened.
Pimental told the Sentinel that Aracena-Montero was "a very sweet guy. Very sweet to everybody." She added, "Every time he met somebody they would like him a lot. He was the type of guy who goes along with anybody."
Using the hashtags #OnePulse and #RIPOscar, family members and friends of the couple have taken to social media to express their grief at losing Aracena-Montero and the dozens of others killed at Pulse that day. "We're going to miss you," wrote Genesis Correa. "We love you." Another cousin, Joel Aracena, wrote a touching tribute to Aracena-Montero on Facebook, translated to English from Spanish in a report posted on The Daily Beast:
Today is and will be as long as I live the most devastating day of my life. The day when, by the decision of another, my beloved cousin is no longer with me.
Like many of the victims at Pulse, Aracena-Montero was young with a lifetime of good memories ahead of him. At just 26, he had already begun building that life with the person he loved. And — like the other 48 victims — he simply wanted to enjoy a night out with his close friends. As details continue to surface about the motives behind the deadly shooting at Pulse, it's important to remember that while the gunman ended 49 lives that night, he also took away what those 49 people might have become. And that's a loss that we can only begin to imagine.