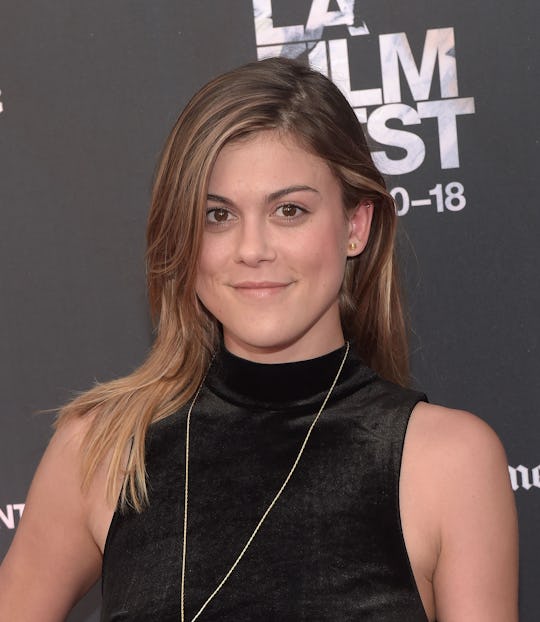 Jason Kempin/Getty Images Entertainment/Getty Images
Who Is Paige On 'Pretty Little Liars'? She's Coming Back To Stir Up Trouble
Romances on Pretty Little Liars can run the gamut from super shady to really sweet, and Emily's romance with Paige went from one to the other. Things between the two girls did not get off to an auspicious start, but once Paige began to work through her issues their relationship became a lot more solid. Paige hasn't been spotted on the show in a while now, but she's set to make a reappearance in Season 7, Episode 8, "Exes and OMGs." But if you're scratching your head trying to place her (there have been a lot of characters on this show) you may be asking: who is Paige on Pretty Little Liars?
Paige was one of Emily's more longterm girlfriends and they broke up on amicable but still awfully sad terms. Paige came into the picture after Emily's girlfriend Maya was sent to rehab, then disappeared when Maya came back, then reappeared after Maya's tragic death and eventually was there to stay. At first Paige and Emily had an antagonistic, competitive relationship but then Emily helped encourage Paige to come out and things began to get a lot better between the girls, However, there's still that time Paige sort of tried to drown Emily. Hard to forget about that.
Paige and Emily met on the swim team when Paige was angling for captain. She viewed Emily as a threat to her position on the team and she was also struggling with being closeted, so all the pressure made her act out in a major way. She threatened and bullied Emily and even held her head under water, which is not a good way to start a relationship. Seriously, do not take tips from Paige. Eventually she kissed Emily and came out to her, but Paige didn't want to come out to her family so things between the girls ended.
However, once Paige grew more confident in her identity, she and Emily reconnected. Despite setbacks (Paige was a brief contender for A and was almost framed for Maya's murder), they fell in love. Things were going okay between them until Alison returned to Rosewood; Alison had bullied Paige relentlessly in the past, so Paige was less than sympathetic to her. Paige eventually chose to move to California because Rosewood was no longer safe. Though, had it ever been?
Paige's storyline can get pretty complicated, but luckily her hair journey acts as the perfect guide to pinpoint how far along she is in resolving her issues: if she's got the blunt bob with bangs she's at her lowest point; her slightly longer but still straight hair is a sign of literal and emotional growth; finally, her full blown glam waves signify that Paige and Em are in a great place (though the waves completely contradict Paige's former sense of style).
Now Paige is back, though it's uncertain how long she'll be in Rosewood. She and Emily are both in competition once again now that they're both trying to get the job of Rosewood High swim coach, but that could lead to them reconnecting romantically too. Competition worked the first time.