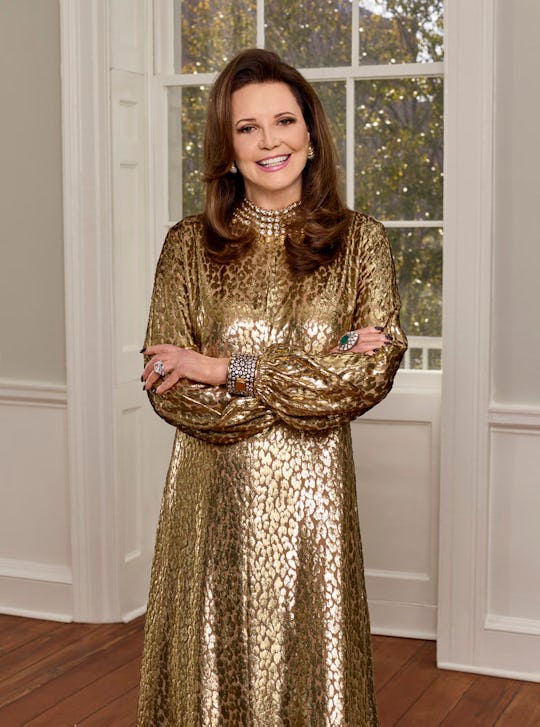 Rodolfo Martinez/Bravo
Patricia Has A New Man In Her Life On 'Southern Charm'
Everyone appears to be breaking up on Southern Charm Season 5. Everyone, that is, except Patricia Altschul, who opened the season with an absolutely enormous "promise ring" on her left ring finger. So who is Patricia engaged to on Southern Charm? She's identified her mystery man only as "Mr. C," so I guess that means I'll have to wait and see if he shows up. (Sorry, I couldn't help myself.)
Of all the people on Southern Charm, Patricia might be the stand-out star. She's an old school southern belle who has a literal butler named Michael, who packs along all the fixings for a martini wherever Patricia goes. She is the self-described "caftan queen," and even designs her own caftans with prints of her dog's face on them. You can purchase your own doggie caftan (or pajamas, or silk throw pillow, or scarf) on her website Patricia's Couture. She has described Tinder as the end of Western civilization and is basically a master at finding husbands, having been married three times before. She hasn't given any real hints as to who her mystery man is at this time, but I'm sure that if she doesn't fess up, her legions of dedicated fans will work hard to find out.
In the first episode, Patricia's son Whitney Sudler-Smith told costar Shep Rose about his mother's new man. At least, he told him everything that he knows which isn't much. He mentioned that his mother has a "gentleman caller" and he thinks there's an engagement. Cut to Patricia telling Whitney that everything is "going great with Mr. C" and flashing him the ring which is approximately the size of my face. "Modest," joked Whitney, to which Patricia blithely joked back, "Could be bigger." Patricia went on to say in her queenly manner, "Nobody in the group is apparently marriage material but me." Boom.
It's hardly the first time that Patricia has sprung a new marriage on her son. Whitney recounted in the episode the first time his mother got married after his father. "I was at school in England and I got a telegram saying she'd gotten married. That was f*cking weird," he said. All the note said was "I'm married. I'm on the boat. I'll call you when I'm off the boat." But apparently low-key sudden weddings are kind of Patricia's thing. Though she's been married three times, she's never been one to put on a big production — so don't expect a giant televised wedding from her.
In an interview with Town & Country Patricia explained how each of her weddings were small affairs, stating:
I decided that I never wanted a big wedding. I wore a cocktail dress with a hat and a veil to my first wedding. Both my father and my husband's father had passed, so it was just the two of us with our mothers and the the minister.
The second wedding took place on her husband's motor yacht, as described above, and the third by a judge in her husband's 5th Avenue apartment.
Since Patricia has had so much luck with men in the past, perhaps you were wondering what her secrets are for finding a nice man? Well, she recommends doing a background check on anyone you meet on a dating app, go to parties and sporting events, and join museum groups. Alternately, just have a friend set you up.
I don't know if Patricia will ever reveal who her mystery husband to-be is, since even her son doesn't appear to have all of the details. But fingers crossed he'll make an appearance soon.
Check out Romper's new video series, Romper's Doula Diaries:
Watch full episodes of Romper's Doula Diaries on Facebook Watch.