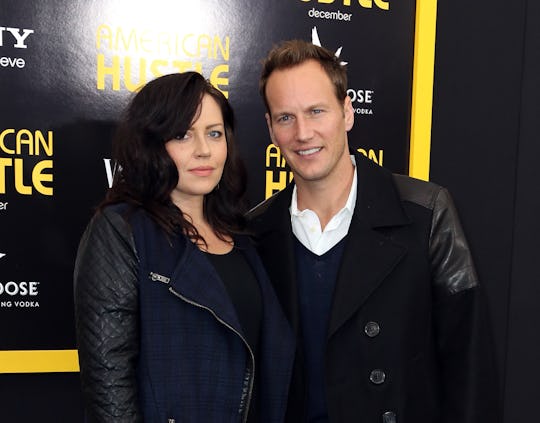 Monica Schipper/Getty Images
Who Is Patrick Wilson's Wife? Dagmara Dominczyk Is One Seriously Talented Woman
I've been a Patrick Wilson fan ever since his first Golden Globe nomination — way before he earned his nod for the FX anthology series Fargo (2015), for which he's currently up for Best Actor in a Miniseries or Television Film. In 2003, Wilson was granted his first Globe nomination after captivating audiences as gay mormon Joe Pitt in the HBO mini-series Angels In America. As a man trapped in an unhappy life with delusional wife Harper, portrayed by the always amazing Mary-Louise Parker, Wilson wowed audiences, delivering a gripping tale of marriage and its limitations. In real life, Patrick Wilson is happily married to wife Dagmara Dominczyk, known for her roles in The Count of Monte Cristo (2002), Kinsey (2004), and The Immigrant (2013).
Dominczyk isn't just a piece of arm candy — that's for sure. In addition to her film career, the Polish born beauty has plenty of TV credits to her name, including roles on The Good Wife, Boardwalk Empire, Law & Order SVU, Person of Interest, and 24. She's also an accomplished writer.
Wilson's wife is an acclaimed novelist who released her first book The Lullaby of Polish Girls (2013) which was based on her life as a polish émigré. Publishers Weekly called the novel a "gossipy, feisty debut," akin to a Polish Girls. (It makes you wonder if Dominczyk swapped manuscripts with Wilson's Angels In America co-star, Mary-Louise Parker, whose latest novel Dear Mr. You is getting rave reviews as well... now that would be a writer's group I'd want to join.)
Mother of two boys, Kalin Patrick Wilson, 9, and Kassian McCarrell Wilson, 6, Dominczyk is also known for her cheeky sense of humor. At her book party for The Lullaby of Polish Girls, the author told The New York Times:
Those who know me know I love to write. Those who know me a little bit know I'm an actress. Those who don't know me know I'm married to Patrick Wilson.
And her cheekiness didn't stop there. When Wilson guest starred on HBO's Girls as Lena Dunham's love interest in a sex-filled 2013 episode, one Twitter user posted a not-so-nice tweet insulting Dunham not being "hot enough" to sleep with Patrick Wilson. Dominczyk fired back in a tweet which has since been deleted, joking, "Funny, his wife is a size 10, muffin top & all, & he does her just fine."
Dominczyk seemed to take the incident in stride — and from the looks of this video taken at the New York Film Festival premiere of one-man movie All Is Lost that same year, both Wilson and Dominczyk, who rocked her "muffin top" in a LBD, were obviously still smitten with each other.
The writer/actress/mother has been known to drop the f-bomb on her Twitter account (my kinda lady!) more than a few times — but she makes sure to pair her swear-words with pictures of puppies, and support for her husband's lauded performances.
If I was swooning over Wilson before, now that I know what a rad, body-pos, and literary wife he has, my adoration for the Fargo star is over the moon. I'm officially declaring a #WCE on Dagmara Dominczyk. Whether Wilson goes home with a prize on Sunday or not, it looks like he's already won.
Images: Monica Schipper/Getty Images; Neilson Barnard/Getty Images