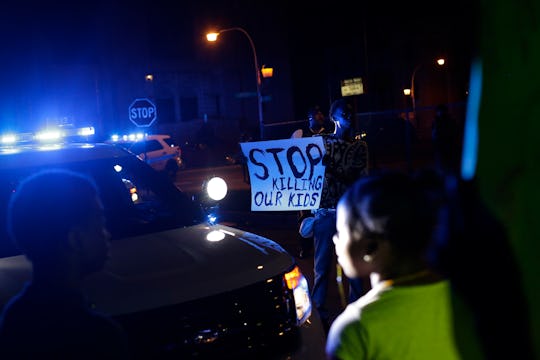 Joshua Lott/Getty Images News/Getty Images
Who Is Paul O'Neal? The 18-Year-Old Is The Latest Black Teen Shot By Police
The violence has got to stop. It hurts my heart to consistently report on stories like these and it is sickening that there have been so many of them in the news recently. Just recently, another unarmed black teen was shot by police — and a new video released of the incident shows the horrific tragedy playing out on screen. Who is Paul O'Neal? The 18-year-old is just the latest unarmed black teen to be killed at the hands of law enforcement
This past Friday, Chicago Police released the video of O'Neal's shooting. One week before, on July 28, O'Neal was shot in the back by officers during an alleged "stolen vehicle investigation." The video, captured by body camera, shows the police officer in pursuit of the stolen vehicle, then shows police officers chasing O'Neal down in the neighborhood where he decided to flee. The video does not capture the shooting of O'Neal on camera but according to reports, police claimed the teen fired on police prior to being gunned down. However, although police alleged that O'Neal had been in possession of a firearm and that they had fired five rounds in their own defense, later reports showed O'Neal had indeed been unarmed and had been taken down by a single bullet to the back, one of at least 15 rounds fired by officers on the scene. His death was reportedly ruled a "homicide" by the Cook County Medical Examiner's Office and autopsy report.
"Comments from that officer caught on video indicate he may have erroneously thought O'Neal had fired from a stolen car barreling in his direction," The Chicago Tribune's Jeremy Gorner, David Heinzmann, and Dan Hinkel reported. "In fact, those shots were fired in the officer's direction by other police shooting at the stolen car in apparent violation of departmental policy."
In response to the shooting and the subsequent video release, Chicago Police Superintendent Eddie Johnson released a statement, which was posted to Twitter by Communications Director Anthony Guglielmi:
I applaud the Independent Police Review Authority (IPRA) and Chief Administrator Sharon Fairley for being so transparent and open with the video release, and I want to pledge the full cooperation of the Chicago Police Department during this investigation. My promise to the people of Chicago is that we will be guided by the facts, and should wrongdoing be discovered, individuals will be held accountable for their actions.
The shooting of Mr. O'Neal has raised a lot of questions about whether departmental policies were followed. When IPRA conducts a thorough investigation, we will not wait to look for ways we can learn from this incident. I've challenged my team to take a hard look at training and tactics from this incident, including looking at national best practices on use of force, to determine how we can best serve our officers so that they can best serve the people of the city.
But Paul O'Neal is more than what this video depicts, more than the description of his alleged crime, and more than whatever horrifying procedural errors may have allegedly been made by police in the moments before his death. Before his name came in the news, Paul O'Neal was just another 18-year-old boy, living in Chicago.
According to CBS Chicago, Paul O'Neal's sister, Briana Adams, told reporters at a news conference that her brother was "always smiling and always joking." "Paul had goals," she said. "He was loved by my mother, his family — me." According to the outlet, O'Neal had just graduated high school and had hoped to begin trade school and work for ComEd.
"He was good, warm hearted, but the decision he did was wrong," O'Neal's cousin, Zhivago Short, said at a rally, according to ABC Chicago.
The shooting of Paul O'Neal further unveils the conversation surrounding the killings of black men and women by police officers. If there was ever a more topical time to discuss shootings like these, it is now when #blacklivesmatter consistently trends on Twitter and frustrated protests in the victims' names are in the news.
In a statement released by Paul O'Neal's Uncle, Charles O'Neal, Charles called for people to not focus on Paul's crime involving the stolen vehicle but rather the consequence of his untimely death. "Now is not the time to examine the alleged actions of a young man who cannot defend himself," he said. "After all, he was found guilty and sentenced already. He has no higher price to pay for his mistakes, real or imagined."
Paul O'Neal is not the just latest unarmed black teen to be shot police. His life and story matter.