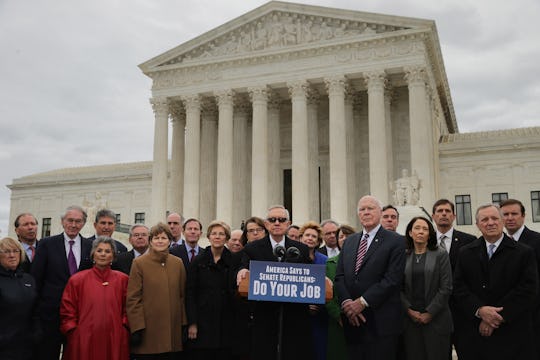 Chip Somodevilla/Getty Images News/Getty Images
Who Is Paul Watford? He May Have Made Obama's SCOTUS Short List
It didn't take long after the death of Supreme Court Justice Antonin Scalia in February for questions to start swirling about who would take his place. President Obama is now thought to have narrowed down a short list of candidates he is considering nominating to the position, and according to the Los Angeles Times, United States Circuit Judge Paul Watford has made the list. Who is Paul Watford? Watford is a 48-year-old California judge who currently serves on the 9th Circuit Court of Appeals. According to Vox, Watford is well-liked and highly qualified, with a bi-partisan voting background — and, as a young, African American judge who graduated from UCLA instead of Harvard or Yale like almost all of the current SCOTUS judges, he is considered to be a candidate that could bring some much-needed diversity to the country's highest court.
But, despite his strengths, Watford is far from a shoe-in. Not only is he up against at least two other strong candidates — Judges Sri Srinivasan and Merrick Garland — picking Scalia's replacement appears to be a much more complicated task than simply trying to find the most qualified candidate. In the wake of Scalia's death, the remaining eight justices represent an equal partisan split of four Democrats and four Republicans. Even though Obama has said publically that the Supreme Court needs its full contingent of nine justices in order to operate properly, Senate Republicans have criticized Obama for trying to nominate a new justice this close to a presidential election, and have "vowed to ignore" any candidate he puts forward, according to the New York Times.
To his credit, Watford has won praise from his conservative colleagues ever since being nominated by Obama to the 9th Circuit Court in 2011. According to the Los Angeles Times, Appeals Court Judge Alex Kozinski (who Watford also clerked for early on his career) has said that Watford "is just really wonderful," noting that he isn't guided by predetermined principles:
I can't describe him ideologically. He has been my colleague for three or four years, and I can't pigeonhole him into anything. The guy is really, really smart. He is careful about applying precedent, but based on ideology, you cannot predict the guy.
Watford himself would likely agree with that assessment. According to the Washington Post, he has firmly disagreed with Obama's controversial belief that empathy is "a core qualification" for a Supreme Court justice, saying,
Judges cannot be guided by their personal feelings or sympathies in deciding cases. They must decide cases based solely on what the law requires.
But, according to the Washington Post, at least one notable individual is not a fan of Watford: Senate Judiciary Committee Chair Sen. Charles E. Grassley a Republican from Iowa. Grassley spoke out against Watford's nomination to be a judge on the 9th Circuit Court in 2011, arguing that Watford was clearly "not a consensus nominee." He also voiced his concerns "about [Watford's] views on both immigration and the death penalty," after Watford opposed Arizona's controversial 2010 immigration bill on the grounds that it encouraged racial profiling. As a result, Grassley vowed to oppose Watford's nomination, and asked others to do the same. Watford was ultimately confirmed as a 9th Circuit Judge by the Senate, but the 61-34 vote was far from being a runaway victory.
Even without the expressed opposition currently being thrown Obama's way by the Senate in response to a proposed Scalia replacement, the reality is that a Supreme Court nomination is a convoluted and lengthy process, full of candidate vetting, committee debates, hearings and votes before any decision can be made. So, while it appears that the process of filling the ninth SCOTUS spot has begun, there definitely seems to be a long way to go before Watford — or any other candidate — can be seriously considered.