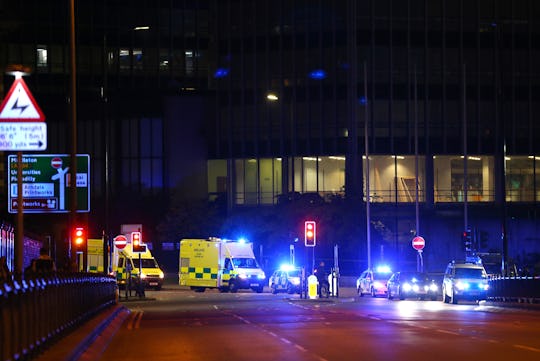 Dave Thompson/Getty Images News/Getty Images
One Woman's Simple Act Of Heroism Following Manchester Attack
On Monday night, multiple explosions were reported following an Ariana Grande concert. Police have confirmed at least 19 dead and 50 injured, but there are also many parents still trying to find their kids. In the midst of the chaos, Paula Robinson, who helped children after the Ariana Grande concert blasts, began posting updates on social media to lend a hand — a simple, yet undoubtedly heroic act of kindness.
UPDATE: BBC reported at 11:40 a.m. local time Tuesday that 22 people have been confirmed dead and 59 injured in the Manchester Arena explosion.
UPDATE: In a statement early Tuesday morning local time, Manchester Police spokespersons said, "Just before 10.35pm on Monday 22 May 2017, police were called to reports of an explosion at Manchester Arena. So far 19 people have been confirmed dead, with around 50 others injured. This is currently being treated as a terrorist incident until police know otherwise."
In a separate tweet on Monday night, Grande wrote, "broken. from the bottom of my heart, i am so so sorry. i don't have words."
EARLIER: Shortly after the blasts went off at 10:35 p.m. local time, Robinson posted on social media that there were about 50 children with her who were without parents or guardians. It was late, so she took them to a nearby hotel. "Please re-post for any parents with children at [Manchester Arena]. We have taken as many kids as we can to Holiday Inn. We will keep them safe and stay with them," she wrote. In a later post, she added her phone number.
Greater Manchester Police said they would eventually set up a phone number for concerned parents to call, but haven't provided any details yet. In the meantime, they've urged people to follow their Twitter handle, @gmpolice, for updates.
It's even more difficult for people to get in and out of the area since the arena is right next to Victoria Station, which was evacuated after the blasts. All incoming and outgoing trains have been cancelled. Hence the hotel.
Parents are flocking to social media instead to track down their children or loved ones.
One woman tweeted, "My six-year-old niece was in Manchester tonight for the concert. We haven't heard from her/ her guardian and are sick with worry." Others have gotten in touch with their loved ones, but can't get to them.
One man, Andrew Senior, told The Daily Mail:
My wife and two daughters were in there. They were wounded by shrapnel but they are OK. I spoke to them on the phone. All the casualties are sitting on the floor outside waiting to be taken to hospital. My wife and daughters are separated but they are OK. I feel really worried and I just wish I was with them.
Other eye witnesses described gruesome and panicked scenes as fans tried to get out of the arena after the blasts.
Sasina Akhtar told The Manchester Evening News that they saw "young girls with blood on them." She added that "Everyone was screaming, and people were running."
Police are currently investigating the multiple explosions as a potential terrorist incident, according to a statement from the Greater Manchester Police on Twitter. For now, thanks to people like Paula Robinson, at least some of those young children and teens who witnessed the terrible scene have a place to wait out the chaos.