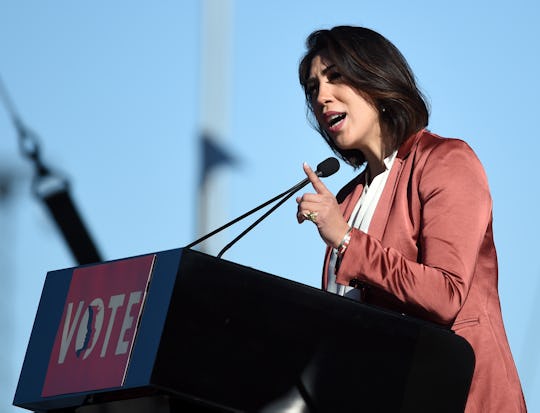 Ethan Miller/Getty Images News/Getty Images
Who Is Paulette Jordan? The Native American Candidate Could Make History
Today, Nov. 6, could be an unprecedented moment in U.S. history. After the polarizing division following the results of the 2016 election, people are seemingly more motivated than ever to get to the polls at the midterms and elect representatives for state and local government that advocate for their values and ideals. With a record number of women are running for office, some people may be wondering: Who is Paulette Jordan? She'd be the first Native American woman to be the Governor of Idaho.
According to her official campaign website, Jordan is a native northern Idahoan, and a "proud member" of the Coeur d'Alene tribe. She graduated from the University of Washington where she began getting involved in local politics and "grassroot activism," and cites that she worked with the Seattle City Council as well as her University's administration to advocate for the rights of her peers and fellow students.
After she graduated, Jordan moved back to Idaho where she is still working to protect her community and the natural resources of the state. Jordan is a mother of two sons, and is running in hopes of becoming the state's first Native American woman to hold that position. With all that said, here are some of the most important facts to know about her.
1. She's Got A Tough Battle Ahead
Despite Jordan's appeal, her biggest challenge is simply her home state. The New York Times reported that, as Idaho is "indisputably Trump country," citing the president's 32-point victory margin in 2016, Jordan's election is unlikely. However, despite this, she's still amassing a big following — enough to get her into the midterm elections.
2. Her Ancestors Were Influential Tribe Leaders
Perhaps the most interesting fact about Jordan's upbringing is that she is Native American. If she were to win, she'd be the first Native American to hold the position of governor, which is sublime and fascinating, if you really think about it. Heavy reported that her ancestors are Chief Moses of the Sinkiuse-Columbia tribe and Chief Kamiakin of the Yakama, Palouse and Klickitat tribes.
3. She's Moderate
Despite her progressive politics, she is decidedly moderate. She's cited in one CNN article as Idaho's "horse-riding, gun-carrying Democratic candidate." Jordan shared on her website:
Throughout my tenure in the Idaho legislature, I have promoted progressive policy, like the teacher loan forgiveness bill, and held the line against harmful and unjust legislation. I fight for better rural education, wider access to healthcare, and stronger economic development and opportunity in Idaho's struggling communities.
4. She'd Be The First Native American Governor Of Any State, And The First Woman To Lead Idaho
If Jordan were to somehow pull off such a stunning, unprecedented win, The New York Times reported she'd be the first Native American to govern any state, as well as the first woman to lead Idaho, which is no small feat.
5. She's A Mom Of Two
On her website, Jordan says she's running to build a better future for her sons, as well as the rest of the state's children, too.
6. She Believes Health Care Is A "Right," Not A "Privilege"
One of her main campaign platforms is advocating for universal health care. According to Heavy, she said:
In Idaho, we are committed to taking care of one another, regardless of our differing circumstances. That's why I believe that affordable and accessible healthcare is a basic human right. For too long, too many Idahoans have struggled without sufficient access to healthcare across our state. Idahoans deserve access to healthcare that is affordable, easy to find, and doesn't cost us a fortune.
Though Jordan does undoubtedly have a tough battle today, as Idaho is a distinctly red state, there's no question that Jordan is making her mark and having an impact on the lives of those around her. Hopefully this history-making politician will continue her career, and this will be the very beginning of seeing her names on the ballots.