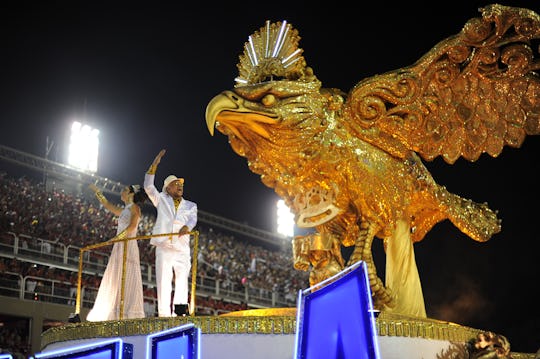 CHRISTOPHE SIMON/AFP/Getty Images
Who Is Paulinho Da Viola, The Singer Of The Brazilian National Anthem?
As the Olympic opening ceremonies begin, a beloved, 73-year-old Brazilian singer performed "Hino Nacional Brasileiro," the country's national anthem. The well-known Samba songwriter's nickname translates to "Paulie Guitar" in English, which just barely encapsulates his lifelong dedication to music. You're likely wondering, then, who is Paulinho da Viola, the singer of the Rio national anthem?
Paulinho da Viola reached the peak of his music production in the 1970s and he continues to write and perform music to this day. He hasn't always had unwavering confidence about this chosen path, though. When da Viola was much younger and went by his given name, Paulo César Batista de Faria, he worked as a bank teller. This vocational choice was due to his feeling discouraged about the lack of potential growth for his music career. In the 1960s, a fellow musician and poet, Hermínio Bello de Carvalho, convinced da Viola to reenter the music scene through musical collaboration. After working with de Carvalho for awhile, producing numerous records, da Viola joined the Samba group A Voz do Morro (which translates to "The Voice of the Hills"). After a decade of prolific music making, a song that Da Viola wrote, "Memórias de Um Sargento de Milícias," was selected for Rio's popular Carnival festival. The song has been used time and time again at Carnival.
The video below shows a live performance that showcases da Viola's signature, light and easygoing sound, often described as "gentle."
In addition to providing vocals and guitar, da Viola plays cavaquinho and mandolin. When he performed the national anthem tonight at the beginning of the Olympics, da Viola accompanied his own vocals with acoustic guitar, and was also joined "by the audience and a small string orchestra." Da Viola's performance was introduced by Thomas Bach, the president of the International Olympic Committee.
The anthem that da Viola performed, as described on Brazil's official website, is "particularly warm and animated, maintaining a jovial tone." It sings of a "heroic people" as well as "the dazzling rays of the sun of Liberty." It strives to encapsulate the honor and love felt for the country, and culminates in "thou art the gentle mother of the children of this soil, beloved land, Brazil!" Brazil chose da Viola to represent their country's ideals and to sing on behalf of their "land adored," which shows the utmost respect for da Viola's ineffable commitment to the country's music and culture.