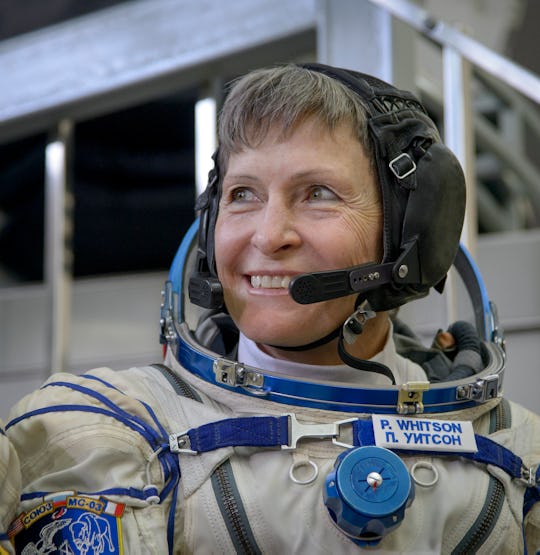 Bill Ingalls/NASA/Getty Images News/Getty Images
Peggy Whitson Is An Inspiration To Girls Everywhere
All the little girls out there who dream of flying through space one day have a new hero they can look up to — record-breaking astronaut Peggy Whitson. She made the news Monday because she set a record for the greatest number of days spent in space by an American astronaut. But she's actually been smashing records, standing up for science, and sticking it to the patriarchy for years now, making her an incredible inspiration for girls in STEM, or really, for anyone who admires dedication, bravery, and teamwork.
As of Monday, Whitson, age 57, had spent more than 534 days in space, breaking the record previously held by astronaut Jeff Williams. And she's not coming down to Earth any time soon. Whitson's current mission is projected to last five more months at least, which means she'll rack up over 650 days in space if all goes as planned.
In a congratulatory phone call with President Donald Trump, Ivanka Trump, and NASA astronaut Kate Rubins, Whitson said,
Well, it's actually a huge honor to break a record like this. It's an honor for me, basically to be representing all the folks at NASA who make space flight possible and who make me setting this record feasible.
Whitson, who has a doctorate in biochemistry, is no stranger to breaking records. In March, she set a new bar for the highest cumulative spacewalking time by a female astronaut, during a mission to install thermal protection shields on the International Space Station. It marked her eighth spacewalk. And back in 2008, she became the first woman to command the International Space Station. She's currently heading it up again, marking her second stint as commander. Also, did I mention that she's the oldest female astronaut? So yeah, she's ridiculously impressive.
Whitson graduated high school right around the time that NASA selected its first female astronauts. She worked her way up from being a ground support researcher at NASA, making her first flight to the International Space Station in 2002.
And while she's focusing on all the exciting scientific research and advancements that come with being in space, like how to send a mission to Mars by the 2030s and how to make urine drinkable (hey, water is precious up there!), she's also got time for some celebratory zero-gravity somersaults.
When Whitson was little, she had no female astronauts to look up to. How wonderful it is that, now, girls can see an exceptional woman like her, and know that it's possible to, quite literally, reach for the stars.