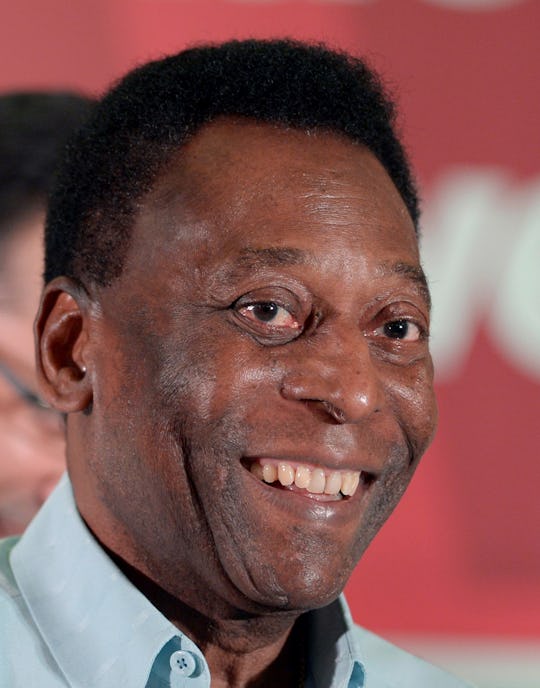 DIBYANGSHU SARKAR/AFP/Getty Images
Who Is Pele? He Might Miss The Olympic Closing Ceremony
The Olympics is all about celebrating great athletes, both new and old. Which is why you really have to know who Pelé is to understand why his lack of appearance at the Rio closing ceremony is so disappointing. Pelé, born Edson Arantes do Nascimento, is a Brazilain soccer player. Some would list him among the greatest soccer players of all the time, if not the absolute best. As a forward, Pelé has three World Cup wins, in 1958, 1962, and 1970 with Brazil, along with various other championships. He even was awarded the Brazil's Gold Medal in 1995 for "outstanding service" to the sport in 1995.
His father was also a soccer player, but because of a knee injury never had Pelé's great success. But it's not just that Pelé is a great athlete — he has one of those inspringing rags to riches stories that makes all of his accomplishments all the more impressive. He grew up outside of São Paulo, playing on the streets with a stocking stuffed with paper as a ball. In 1954, he was picked up by a youth league and the rest is history. Pelé was just 17-years old when Brazil won the World Cup in 1958, which m ade him the youngest World Cup winner ever. He's a legend.
Which is why many athletes and soccer fans call him "the King" or a football-god. He was just that good. Usain Bolt, the Jamaican sprinter, for example said that he hatee being called "the Michael Phelps" of track and field. According to Yahoo Sports, Bolt said that he respects Phelps' athleticism, but, "I am trying to be one of the greatest — be among Ali and Pele." He added, ""For me, I've proven to the world that I'm the greatest, and that's what I came here for. That's what I'm doing. This is why I said this is my last Olympics. I can't prove anything else."
Bolt is barely 30-years old and considered to be the fastest human of all time. That sounds like Pelé and Muhammad Ali territory. The way that Bolt's peers describe him sounds a lot like Pelé's peers describe the forward — and his legendary header goals.
Pelé was supposed to attend the Rio opening ceremony and light the flame but because of health issues he was unable to make it that night. He tweeted, "I am continuing my physiotherapy and focused on joining you for the closing festivities on August 21. I love you!" and has been in Rio for the games, even posing with Michael Phelps for pictures.
But Brazilian officials in charge of coordinating the final ceremony in Rio say that they don't expect Pelé will have any role in the closing ceremony on Sunday. It will be a shame to not have one of Brazil's — and the world's — greatest athletes ever at the closing ceremony. Hopefully, the soccer star will make it to Japan in 2020.