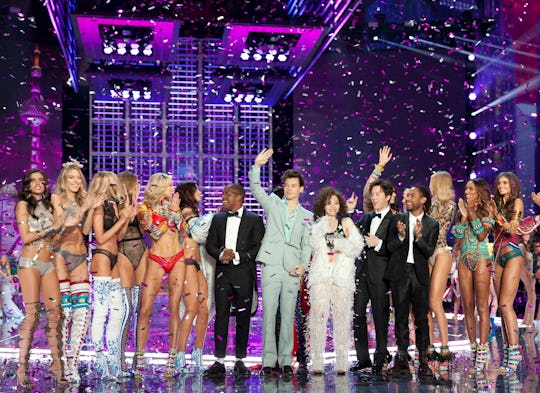 Michele Crowe/CBS
The 2017 Victoria's Secret Fashion Show Will Include A-List Performances
Without a doubt, the Victoria's Secret Fashion Show is the flashiest and most widely discussed fashion event of the year. It's not really a fashion show so much as it is an over-the-top spectacle with celebrities, supermodels, and musical performances. So who is performing at the 2017 Victoria's Secret Fashion Show, which takes place in Shanghai this year? Well aside from the women who walk the runway (and miraculously manage to stay upright which I consider to be a feat in its own right), every year there are a few performances to complete the event. And it is an event.
This year, undoubtedly the most famous and most talked about performance was from former member of One Direction and former paramour of Taylor Swift, Harry Styles. Styles released his first solo album in 2017, eponymously titled Harry Styles, which was widely well-received, with Rolling Stone calling him a "true rock superstar" and the album "superb." He was nevertheless snubbed by the Grammys, having not received a nomination, much to the chagrin of his legions of devoted fans. That's not to say that Styles isn't having a great year anyway. His album is selling really (really) well and oh yeah, he performed at the Victoria's Secret Fashion Show.
By all accounts Styles killed it at the show. Though the details are kept top secret, rumors abound as to what was performed. If you're watching the event, you'll (probably) get to see him perform tracks off of his new album including the hard-rocking "Kiwi" which is giving me old-school '70s British punk vibes in the very best way and the ever-so perfectly titled "Only Angel."
But Styles was far from the only performer at the show. Another music superstar to perform was Miguel. The two-time Grammy winner is rumored to have performed a song from his new album, "Told You So," which was released for public consumption in early November. The album, War & Leisure is out on Dec. 1. The two handsome leading men were joined by fellow performers Leslie Odom Jr, known best for his performance in Hamilton (perhaps you've heard of it), and Chinese singer Jane Zhang, which is appropriate considering the event was held in China.
But all of these performances are not the main event of this particular night. Everyone really comes to see the angels themselves. If you're watching, you're sure to see some familiar faces, some not-so-familiar faces, and wonder where other familiar faces are. Among the most well-known of the veteran angels walking the catwalk are Bella Hadid, Karlie Kloss, Alessandra Ambrosio, Adriana Lima, Lily Aldridge, and Candice Swanepoel. These pros will join several newbie models in the fashion extravaganza of the year, and hopefully provide some tips on how to balance 11-inch heels with literal angel wings.
You will not see, however, a couple of faces that you may have expected. Gigi Hadid announced that she will not be walking the runway in Shanghai. Though she was originally scheduled to be a part of the show, she announced that she would be unable to take part without initially giving a reason. Reports stated that she was denied a visa into China following a social media video which shows Hadid holding up a Buddha statue and squinting. Katy Perry, also originally scheduled to perform, was also reportedly denied a visa into China due to a performance in 2015 in Taipei, Taiwan. For this performance she wore a dress covered in sunflowers, which could be interpreted as support for a subversive student group in Taiwan, the Sunflower Student Movement, that protested was what seen as Chinese overreach in the nation.
Though Perry and Hadid will certainly be missed at the show, it's still sure to be a raucous good time.
Check out Romper's new video series, Romper's Doula Diaries:
Watch full episodes of Romper's Doula Diaries on Facebook Watch.