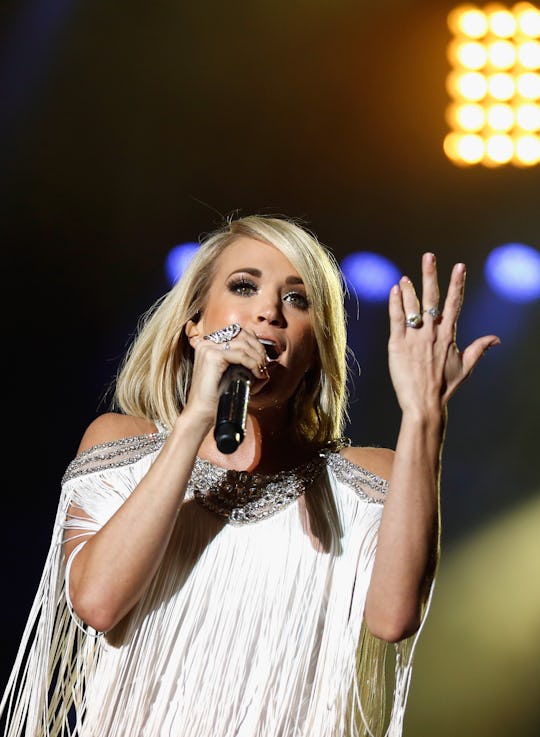 Isaac Brekken/Getty Images Entertainment/Getty Images
Who Is Performing At The ACM Awards? Almost Everyone You Can Think Of Will Be There
On Sunday, co-host Luke Bryan will open the Academy of County Music Awards with a live performance of his new single, "Huntin', Fishin' and Lovin' Every Day," but the entire roster of who's performing at the ACM Awards is full of crowd pleasers, even for non-country music fans. According to the official show site, Jason Aldean, Dierks Bentley, Cam, Kenny Chesney, Eric Church, Brett Eldredge, Sam Hunt, Charles Kelley, and Tim McGraw are all scheduled to perform. Thomas Rhett, former ACM Awards host Blake Shelton, Chris Stapleton, Cole Swindell, Carrie Underwood, and Keith Urban will be taking the stage as well.
Little Big Town, Miranda Lambert, and Nick Jonas will also be doing performances, in addition to a duet appearance by Dolly Parton and Katy Perry. It's going to be musical mayhem on CBS all evening. The list of performances and even presenters is very much in line with the Academy's mission of "showcasing the biggest names and emerging talent" in the industry once a year, according to their official statement. Bob Romeo, CEO of the Academy of Country Music told The Tennessean that the performers and nominees represent what he called the "Class of 2015." Romeo is also proud of the diversity of talent, "We've got two great females in Kelsea (Ballerini) and Cam and then Thomas Rhett and Brett Eldredge, They represent the new blood of country music," he said.
But the ACM Awards are more than just the show on CBS Sunday night. They've been pre-partying with their "Party For A Cause" event, a string of outdoor concerts in Las Vegas all weekend. Carrie Underwood headlined a "Girls Night" on Friday, co-host Dierks Bentley is headlining another lineup on Saturday, and Kenny Chesney will be doing his thing on Sunday from both venues. In fact, one of the outdoor concerts coincides with the live awards broadcast, which Romeo says had some fans confused. "I've had fans sending me notes saying, 'Are you a moron?' 'Are you just an idiot?' 'Did you get screwed up on your calendar?," Romeo told the Las Vegas Review Journal.
The Academy CEO added that the way it's lined up — so that Chesney's Party performance at the Festival Grounds will be going on just as the West Coast broadcast of the awards show begins — fans anywhere but Las Vegas won't even know that the schedule is so tight. The outdoor festival leading up to the broadcast was all about going big. "The challenge was, how do we come back to Vegas and make things bigger and better?," Romeo said in the same Review Journal interview.
If anyone knows how to party, it sounds like the country music crowd could give us all lessons. Let's just hope the performers save some energy for Sunday's broadcast, too.