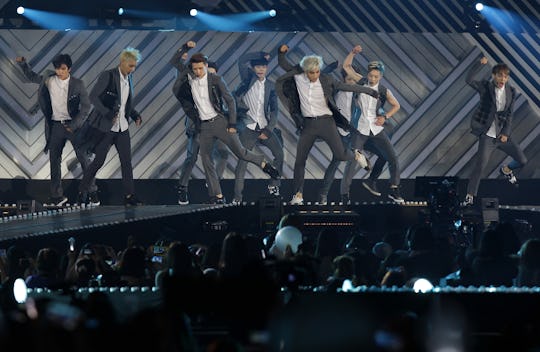 Chung Sung-Jun/Getty Images Entertainment/Getty Images
South Korea's Own Superstars Will Perform At The 2018 Winter Olympics Closing Ceremony
The 2018 Winter Olympics in PyeongChang have been nothing short of exciting. Viewers at home have had the pleasure of cheering on their home country and watching athletes accomplish the unthinkable. But all good things must come to an end — including this year's Winter Games in South Korea this Sunday, which is expected to be quite eventful. But if you're wondering who is performing at the closing ceremony, you should know that it's going to be just as exciting as the opening ceremony was.
The closing ceremony might not hold the same kind of anticipation as the opening ceremony of the Olympics, but it's still just as exciting. Sure, it's a little more bittersweet to watch, especially knowing that the Winter Olympics won't come on TV again for the next four years until the year 2020. But the closing ceremony of the Olympics is a way for athletes and nations to gather and celebrate everything they have accomplished. This year's closing ceremony is guaranteed to be a pretty big celebration, with musical performances from some huge South Korean pop stars.
Two major South Korean pop acts, or K-pop as the genre is more commonly referred to, will perform on Sunday during the closing ceremony, according to Billboard. K-pop groups EXO and CL will take the stage on Sunday, Feb. 25 and here's what you need to know about the acts.
EXO is a K-pop boy band comprised of nine very popular members and are known as the "reigning kings of K-pop" according to a Vogue profile from this past summer.
They've won five daesangs (they're the Korean version of the Grammys, according to Vogue) and continue to sell out venues all across South Korea — needless to say, they're a pretty huge deal and they're expected to put on a great show.
CL, born Lee Chae-rin on the other hand, is the "K-pop queen" and a solo artist after she broke free from her all-girl group, 2NE1, according to CNN. In 2014, CL had hoped to break into America in 2014, but didn't experience the smoothest pathway to success.
Still, her star power in South Korea is huge, and according to Hollywood Life, she has been featured on major singles with musicians like Diplo, Skrillex, and Psy. Although her name might sound unfamiliar to you, her music might resonate just a little bit more.
In addition to these two major musical acts, viewers can look forward to a lot when they tune in to the closing ceremony on Sunday night (which will air on a delay due to the major time difference between the United States and South Korea, according to Business Insider). Other South Korean artists — Ailee, MILCK, and Sumi Jo — will reportedly perform at some point during the closing ceremony, according to ComicBook.com.
While music is a universal language, that won't be the only exciting part about the closing ceremony on Sunday. The theme for the closing ceremony is "Next Wave," according to the Olympics' official website, and will have a "festival atmosphere" atmosphere as compared to a more formal one that you might witness during the opening ceremony. The closing ceremony will include "quite a lot of traditional Korean humor and fun elements to add to the party feel," according to the Olympics' website. Two performances from the two biggest musical acts in South Korea will definitely make the closing ceremony seem a little less sad that the events are coming to a close and a little more thrilling.
But South Korea won't be the only thing celebrated at the closing ceremony — there will also be an official hand over from PyeongChang, South Korea to Beijing, China, which will host the 2022 Winter Olympics. This exchange of Olympic host country will mean that the closing ceremony will only give audience members a taste of what Beijing's culture is like. While the Beijing Winter Olympics won't happen for another four years the closing ceremony and all of its excitement will tide over Olympic lovers for just a bit of time.
Check out Romper's new video series, Romper's Doula Diaries:
Watch full episodes of Romper's Doula Diaries on Facebook Watch.