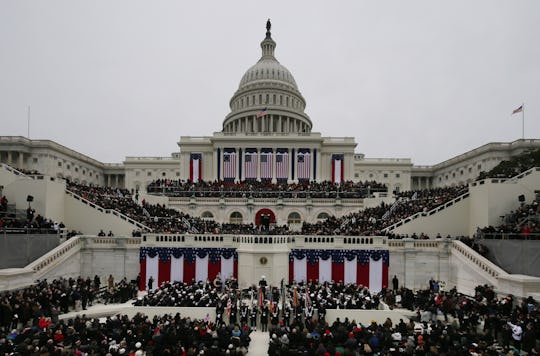 Pool/Getty Images News/Getty Images
Here's Who Is Performing At Trump's Inauguration
Presidential inaugurations are one of the pinnacle moments for folks on the Hill: It's a truly American moment, typically of celebration and some welcome partying after long election seasons — and attract many big name performers. John F. Kennedy had Frank Sinatra, Ella Fitzgerald, and Harry Belefonte because of course he did. President Bill Clinton snagged Michael Jackson, Barbra Streisand, and even rocked out his own saxophin' skills during his many inaugural events. Ronald Reagan even managed to have the release of 52 American hostages held for 444 days in Iran — but that was less performance and more a whole lotta luck. But what about Trump? Who is performing at the inauguration? Ha ha, joke's on him, because nobody wants to perform for The Don's Big Day, according to reports.
No, seriously: This might be the most bigly event of Donald Trump's life, but apparently a lot of major performers must be washing their hair on Jan. 20 — because very few (read: only two) have accepted the Presidential Inaugural Committee's invitation to perform. You know you've got your work cut out for you when country music's earthly embodiment of patriotism — Garth Brooks — turns down the offer to perform the presidential inauguration.
Likewise, according to The Daily Beast, Elton John will not be performing his rendition of "Tiny Hands Dancer," and it's a big "24K Nope" from Bruno Mars. And TMZ reported Gene Simmons from Kiss has told Trump's committee "no" as well. According to The Wrap, The Don is pretty pissed about constant the stream of snubs by major performers, but a Thursday tweet from Trump said he doesn't want A-listers — he wants "the PEOPLE!" Yeah, okay Donnie — keep tellin' yourself that.
So, who are the people he's got so far for the inauguration?
16-Year-Old Opera Singer, Jackie Evancho
Jackie Evancho rose to fame thanks to America's Got Talent, but this pint-sized soprano is anything but just a reality star flash in the pan. She doesn't yet have the household recognition of say, Sarah Brightman — but there's no denying this kid can sing. As a fellow soprano, I'm pretty damn impressed with Evancho's vocal maturity. Gifted as Evancho may be, she's no Queen Bey.
The Mormon Tabernacle Choir
Hey, remember Season 1 of House of Cards, when President Walker screwed over Frank Underwood for Secretary of State? Because having the Mormon Tabernacle Choir perform at Trump's inauguration is exactly how you get Mitt Romney to turn into Frank Underwood. Mark my words: This will be Romney's evil origin story.
The Rockettes... Against Their Will
For a man who respects women as much as he does, you'd think the Radio City Music Hall Rockettes would be thrilled to perform for Donald Trump — but nope, the Rockettes are embarrassed at being forced to perform on Jan. 20. Many of the dancers have flat out balked at the gig on social media, but the union that represents the 12 full-time dancers has basically told them that if they don't perform, they'll be fired, in an email obtained by BroadwayWorld.com. As one feminist Amanda Duarte so succinctly put it on a post that's gone viral on Facebook: "What could be more fitting for this inauguration than forcing a group of women to do something with their bodies against their will?"
After showrunning the Republican National Convention like a damn WWE pay-per-view, looks like Trump's inauguration is shaping up to be pretty low energy.