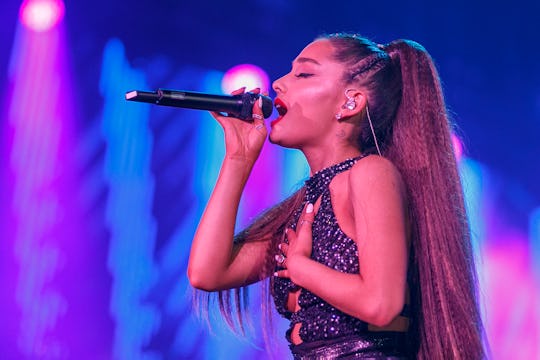 Rich Polk/Getty Images Entertainment/Getty Images
The Performance Lineup At The 2018 MTV Video Music Awards Won't Disappoint
Every year, during the dog days of summer, comes one night that sets the entertainment world on fire. The MTV Video Music Awards always delivers some of the best performances, unforgettable speeches, and "she did what?" moments that are talked about for the rest of the entertainment year. So what can you expect this year? And just who is performing at the 2018 MTV Video Music Awards?
MTV has been dropping details via its website and played off the name of Nicki Minaj's new album, Queen, by announcing that she will reign over the night. It's not going to be just any performance though — really, which of Minaj's performances ever are? — it's scheduled as a special remote show, sponsored by Pepsi. The details are pretty well under wraps still, but MTV promises that it will be from a "secret, iconic location" and that she's performing solo. Or is she?
MTV has hinted that she may be joined onstage, similar to the performances she did in 2016 with Ariana Grande and in 2017 with Katy Perry. Minaj is also hoping to take home yet another award for her "Chun-Li," which is nominated for best hip-hop video, according to MTV.
Maybe the only artist that could top Minaj in generating excitement is Jennifer Lopez, and not only is the pop diva performing, she's being honored with the Michael Jackson Video Vanguard Award for 2018, according to MTV. Other artists who've received the honor, which recognizes a performer's body of work, include Pink, Beyoncé, and Madonna. Surprisingly, despite her impact on pop culture, Lopez has only received two VMAs in the past. "Waiting for Tonight" won best dance video in 2000 and "I'm Real" won best hip-hop video in 2002, according to MTV. This year, she's nominated for best collaboration and best Latin video for "Dinero."
Ariana Grande, Shawn Mendes, and Logic were the first group of performers announced by the show, according to The Hollywood Reporter. Grande, who is nominated for artist of the year, will be performing "God Is A Woman," a single from her album Sweetener, which releases later this month. She's up for video of the year and best pop video for "No Tears Left To Cry," along with best cinematography and best visual effects, according to The Hollywood Reporter.
Mendes is scheduled to perform "In My Blood" as he shows up for the night hoping to take home one of the three awards he's nominated for, according to E! News. The nominations are all for "In My Blood" as well and will see him pitted against Grande for best pop video. His other nominations are for cinematography and direction, as E! News reported.
Logic will be joined by One Direction's Ryan Tedder, in an announced performance of "One Day," as the VMAs revealed on Twitter. Last year, Logic performed his anti-suicide hit "1-800-273-8255," which is nominated this year for best collaboration and best video with a message, according to The Hollywood Reporter.
Travis Scott and Post Malone will also show up on stage, according to E! News. Scott's set will include songs from Astroworld in what will be his first solo performance at the show after joining Thirty Seconds to Mars last year, according to Cosmopolitan. No word on what Post Malone will perform, though it is expected to be "Rockstar." The song is nominated for song of the year with Malone also nominated for artist of the year, according to The Hollywood Reporter.
Rounding out the performers announced so far are Panic! at the Disco with a version of "High Hopes." Billboard reported that the song is climbing the alternative charts, but is not the song that the group are nominated for. That honor goes to "Say Amen (Saturday Night)," which is up for best rock video.
In 2017, there were 15 live performances during the VMAs, according to Billboard, so MTV may not be done with its announcements yet. Either that or MTV is saving same big surprises for the event itself.
With all that said, MTV's 2018 VMAs kick off Monday, Aug. 20 at 6:15 p.m. ET and all your questions will be answered.