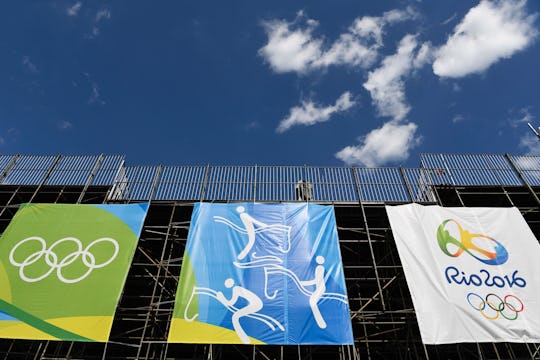 JOHN MACDOUGALL/AFP/Getty Images
Who Is Performing At The Rio Olympics Opening Ceremony? One Big Name Has Been Revealed
Sports fans, rejoice! The Rio Olympics are only a few days away. And though Rio has been experiencing its share of problems, from Zika to water pollution, as it prepares for the much-anticipated event, it's sure to go all out and start the games off with a bang. So who is performing at the Rio Olympics Opening Ceremonies? Though many of the details are still under wraps, it's clear that Rio has a few big names and a lot of spectacle in store.
Perhaps the most famous person so far slated to appear at the ceremonies on August 5 at Rio's Maracana Stadium, at least to Americans, is Brazilian model Gisele Bundchen. According to The Daily Mail, the former Victoria's Secret Angel will step out of retirement and step through a "futuristic gateway" to start the Olympics, portraying the embodiment of The Girl From Ipanema. You know, the one who is "tall and tan and young and lovely," which seems to fit Bundchen beautifully. A source also told The Daily Mail that Bundchen will be backed up by a slew of "scantily-clad performers," 6,000 of them to be exact.
Prepare yourself for, according to The Daily Mail's source,
Lots of nearly naked women doing the samba. The costumes have been designed to show off as much flesh as possible which means as little material as they can get away with.
But it won't be all glorification (or objectification?) of the female form. The Latin Post reports that, in addition to Bundchen, the ceremony will feature a number of Brazil's finest musicians, including Gilberto Gil, Caetano Veloso, and Paulinho da Viola. And the whole thing will be directed by Fernando Meirelles, best known for directing the 2002 film City of God, which made waves internationally and won awards for its stark depiction of gang life amongst teenagers. Meirelles shot it on location in Rio's poorest neighborhoods, and cast actual disadvantaged teenagers.
For Meirelles, the Opening Ceremonies pose a different kind of challenge. "I have never done anything on this scale, and will never do so again in my life," he said on the Rio 2016 website. "Everything is very big, the stage is very big. Three billion people are expected to watch the ceremony. It's a huge responsibility."
Hopefully he, and everyone else working on the event, will come through with a spectacular show, one fittingly grand to honor the excellence of the athletes that will soon be doing their own kind of high-pressure performing.