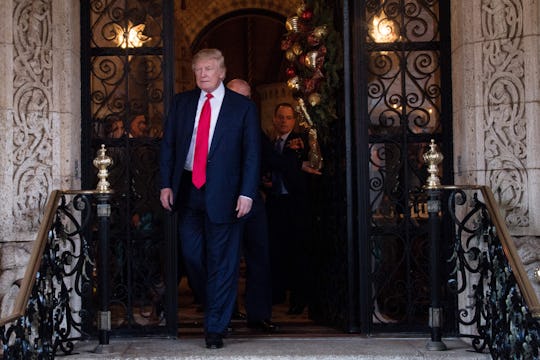 JIM WATSON/AFP/Getty Images
Trump's National Trade Council Director Is A China Critic
In the past two months, all eyes have been on President-elect Donald Trump as he continues to fill very important Cabinet positions. On Wednesday, Trump announced his pick to head up a very important position that he created specifically for his administration: the director of the National Trade Council. As people begin to learn about the National Trade Council itself, they've also begun speculating curiously about who Peter Navarro — the man in charge of leading that new council — actually is and what his background says about his future leadership style.
Here are the basics about Navarro: A college professor at the University of California Irvine, Navarro teaches economics. He comes from an Ivy League background — Navarro got his PhD in economics from Harvard University. Additionally, Navarro is a published author with 13 book titles to his name, many of which focus around the subject of economics as well.
This experience is crucial for Navarro's new job, considering that he will now lead the National Trade Council, which, according to CNBC, will "advise the president on innovative strategies in trade negotiations, coordinate with other agencies to assess U.S. manufacturing capabilities and the defense industrial base, and help match unemployed workers with new opportunities in the skilled manufacturing sector." In layman's terms, while in this role, Navarro will assist and work on the current trade policies in the United States.
Navarro has some pretty strong opinions on trade — especially on trade with China. Navarro has written a book titled Death By China, in which he warns about the United States going into "an economic war" with the country. According to Business Insider, Navarro is "an outspoken China Hawk," and his stance on trade with China could have a huge influence on the future of trade within the United States. Navarro created a documentary with the same title as his book which is available to watch on Youtube.
In addition, Navarro supports Trump's belief that there should be a 45 percent tariff on Chinese goods. Trump's decision to pick Navarro to advise the White House on trade will likely "provoke China" (intentionally or otherwise), according to The Hill, and prove that Trump's comments about China on the campaign trail were more than just talk — and that he's actually ready to deliver on those promises, for better or worse.
Navarro and Trump have been working together for quite some time on Trump's campaign trail to the White House. During Trump's presidential campaign, Navarro served as a leading economic advisor for Trump and "applauded" Trump on his anti-China rhetoric throughout the campaign, according to The Los Angeles Times. Navarro's advising the Trump campaign certainly helped — and over the next four years, given the reach and breadth of his new position, it's likely he'll be paid back in full.