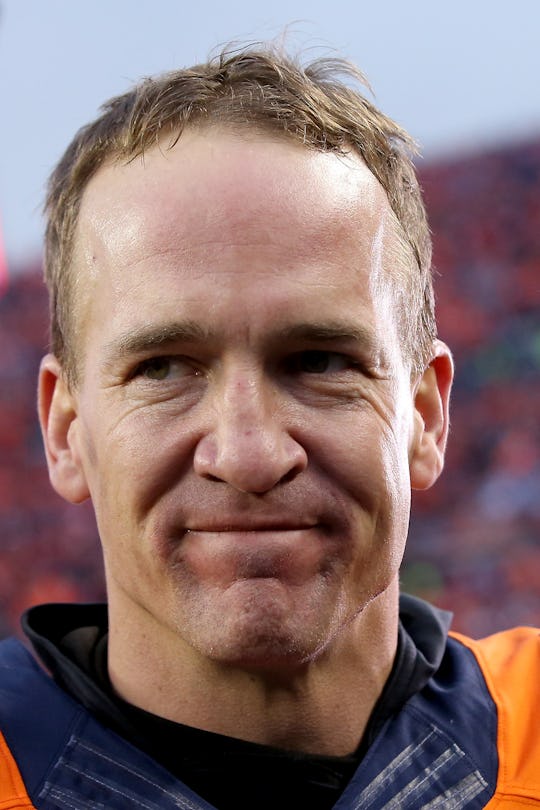 Doug Pensinger/Getty Images
Who Is Peyton Manning's Wife, Ashley Thompson? She Has Her Own Sports Career
When the Denver Broncos and the Carolina Panthers head to the Super Bowl on Feb. 7, fans might spot Ashley Thompson, Peyton Manning's wife cheering the legendary Bronco's quarterback on during the big game. In fact, Manning fans have Thompson to thank for Manning's decision to extend his career. According to the International Business Times, it was his wife who talked him out of retirement towards the end of his run with the Indianapolis Colts. He told Sports Illustrated's Peter King at the time that "Ashley was the one that was saying, 'Peyton, you've got to try. You've got to try.'"
Recently, though, Thompson has been accused of aiding her husband in taking human growth hormones, or HGH. According to an Al Jazeera documentary titled The Dark Side, the quarterback took HGH while he was recovering from a neck injury that kept him from playing for most of 2011. HGH is a type of performance-enhancing drug and its use is not allowed by the NFL. According to the New York Daily News, Manning "angrily" denied the claims. Manning said that "the allegation that I would do something like that is complete garbage and is totally made up. It never happened. Never." The Daily News reported that investigators believe a clinic allegedly shipped the HGH using Thompson's name so that the NFL wouldn't be implicated in any possible scandal. Manning's representative, Ari Fleischer, did not immediately respond to Romper's request for comment.
The NFL is thoroughly investigating the claims, according to People. The magazine reported that the investigation isn't slated to be completed before the Super Bowl on Feb. 7. Thompson hasn't commented on the allegations.
Thompson and Manning were married in 2001 and they have fraternal twins, Marshall and Mosley, who were born in 2011. Thompson is very private about her family life. According to the Heavy, she was wary of even announcing their birth to a local newspaper, saying, "We value our privacy and would appreciate you not putting this in the paper or online." It makes sense when you think of all the attention her husband gets on sports networks almost year round. Something has to be private, right?
Thompson also has her own career in sports. In 2012, she became a part owner of the NBA's Memphis Grizzlies. Thompson paid $5 million for her share, giving her a 2.84 percent stake in the team. The other co-owners are Justin Timberlake, Penny Hardaway, and former Congressman Harold Ford Jr. Thompson.
Recently, the couple has kept quiet, probably in preparation for the Super Bowl. However the HGH investigation pans out, Thompson, her family, and Bronco's fans won't be able to rest easy until the NFL clears Manning's name.