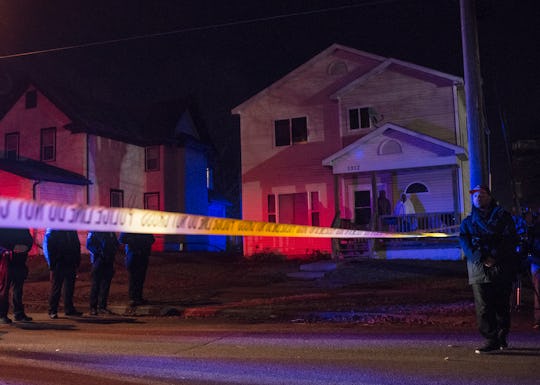 Stephen Maturen/Getty Images News/Getty Images
Who Is Philando Castile? Friends Say He Was A Good Man Who Was Beloved By Many
Just a day after gruesome video surfaced of police shooting and killing Alton Sterling, a Baton Rouge father of five children, yet another video has surfaced of a black man whose interaction with police ended with his death. Philando Castile was driving on Wednesday night with his girlfriend and 4-year-old daughter in Falcon Heights, Minnesota, when the car he was pulled over by police. By 11 p.m. Castile was dead, after being shot multiple times by police. Who is Philando Castile? A traffic stop ended in his death, and his loved ones are trying to figure out just how it happened.
Like in so many other cases, there's a video of the aftermath of the traffic stop. Castile's girlfriend, Diamond Reynolds, and the couple's 4-year-old daughter, Lavisha, were in the car, and both witnessed the shooting, according to CBS Minnesota.
Reynolds filmed a video on Facebook live that was uploaded after her arrest. The video was eventually taken down by Facebook, but it is still being circulated widely online. According to the video, they were pulled over for a broken tail light and the officer asked for Castile's license and registration. Castile, according to Reynolds, let the officer know he had a gun and a concealed carry permit, and then he reached for his wallet. Reynolds said that's when the cop shot Castile four times.
"You told him to get his I.D., sir, his driver's license," Reynolds can be heard on telling the officer on the video. The video then shows Castile covered in blood. He died at a local hospital hours later from the gunshot wounds, according to CBS Minnesota.
So who is Philando Castile?
Besides a father and boyfriend, Castile's mother, Valerie Castile told CBS Minnesota he was a school cafeteria supervisor. He also had a birthday coming up. Castile would have been 33 on Friday, she said.
She also said she had always taught her son to "comply" with police and said she thinks her son was "black in the wrong place" and another casualty in the "silent war against African American people," according to the Star-Tribune.
As Castile left the emergency room where her son died, she said through tears, "They killed my son," according to the Star-Tribune. "They took a good man, a hard-working man — he worked since he was 18 years old."
Stories painting Castile as a "good man" aren't hard to find around his community. And, according to parents with kids at the school where he worked, Castile was a "GOOD MAN," who loved and was loved by the kids in his care, according to a Tweet sent out capturing a Facebook post about his death.
Every day he fist bumped by kids, even when they were acting up. He knew every single one by name, pushed extra food in them like a grandma, and sneaked extra graham crackers into my son's bag because Peter got a kick out of it. My borderline autistic son hugged him every day. You guys. This was a GOOD MAN.
Castile's uncle, Clarence Castile said he had worked at the St. Paul's J.J. Hill school cafeteria for nearly 15 years and that he was a "good kid."
The incident will be investigated by the Minnesota Bureau of Criminal Apprehension Assistance, according to the interim St. Anthony Police Chief Sgt. John Mangseth, according to CNN. The officer who shot Castile has been put on administrative leave pending the results of the investigation, Mangseth said. St. Anthony Police Department and Mangseth did not immediately respond to Romper's request for comment.
"We will release the information as we learn it," Mangseth told CNN. "And we will address concerns as we are faced with them."
Mangseth added this was the first shooting involving a police officer in the area in more than 30 years.
"It's shocking," he said. "It's not something that occurs in this area often."