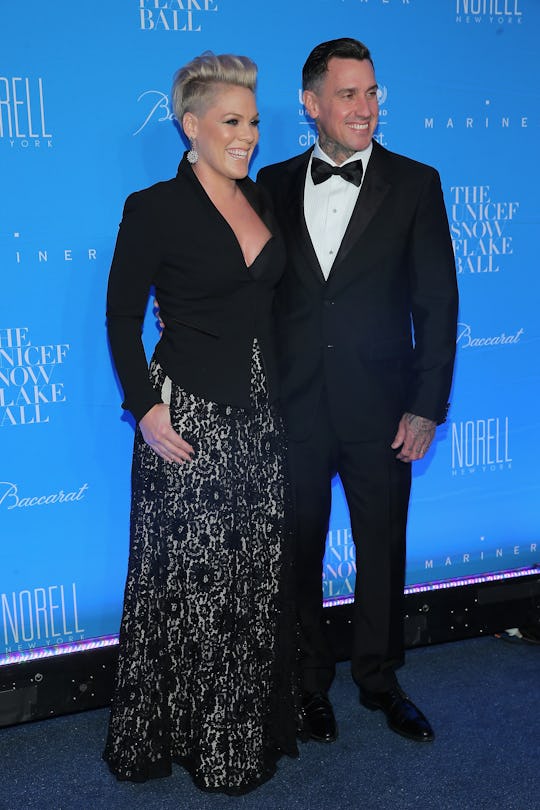 Jemal Countess/Getty Images Entertainment/Getty Images
Who Is Pink Married To? Her Husband Is An Athlete Turned Entrepreneur
During the Billboard Music Awards this Sunday, P!nk is expected to deliver a killer performance. She may be known for her rebellious lyrics and independent spirit, but P!nk's unafraid of commitment: the singer's been married for a full decade (with a few breaks along the way). Who is P!nk married to? Her husband Carey Hart is a retired motocross athlete who seems to seriously love being a dad.
P!nk and Hart celebrated their 10th anniversary in January, TODAY reported. Hart marked the occasion by Instagramming a family photo captioned:
Happy anniversary to my MUCH better half. 10 years is a pretty amazing milestone for 2 misfits like us. I'm proud of us baby!!! Thank you for being an amazing wife, mother, and friend. I love you.
The couple started their relationship back in 2001, according to TODAY; ever a rebel, it was P!nk who popped the question in 2005. While Hart was finishing a motocross race, P!nk held a sign with "Will you marry me?" on it to catch his attention. After he answered her proposal, he jumped right back into the competition.
P!nk and Hart got married in Costa Rica in January 2006, People reported. The couple tied the knot at the Four Seasons, exchanging vows on the beach. Their relationship hasn't always been smooth: the two broke up briefly in 2003 before getting back together. This May, P!nk joked on The Ellen DeGeneres Show that it's about time for another break, according to E! News. She and Hart separated twice during their marriage, once for 11 months and once for a full year. They haven't been apart recently, at least since 2011. The couple welcomed a daughter, Willow Sage Hart, that year, MTV reported. P!nk tweeted the news:
We are ecstatic to welcome our new beautiful healthy happy baby girl, Willow Sage Hart. She's gorgeous, just like her daddy. #beyondblessed.
Hart may be known for his athletic excellence, but P!nk told Ellen DeGeneres that she thinks he's particularly exceptional as a father, according to E! News: "He's an incredible dad. That's why he falls asleep [with Willow], because she wants him to stay." Hart may be enjoying a quiet home life, but he's known for being extreme. Carey is considered to be one of the creators of the freestyle motocross movement, IMDb reported. After years traveling the world and starring in ad campaigns, he opened Hart & Huntington Tattoo Company with John Huntington in Las Vegas. The venture led directly to the creation of the A&E show, Inked, and prompted the company to expand to three more locations. He even got to sponsor his own team: Hart & Huntington Tattoo/Rockstar Supermoto Team.
Though Hart has plenty to keep him busy, he still finds time to support P!nk's work. He appeared in two of P!nk's videos earlier in her career for "Just Like a Pill" and "So What," according to IMDb. Now, he and daughter Willow both have roles in the video for P!nk's newest single, "Just Like Fire," People reported. P!nk said the song is inspired by her daughter.
Created for the Alice Through the Looking Glass soundtrack, "Just Like Fire" is also the song P!nk is scheduled to perform at the Billboard Music Awards, according to Billboard. Fans can tune in to ABC on Sunday at 8 p.m. Eastern Time to see her sing. Maybe Hart will make a cameo!