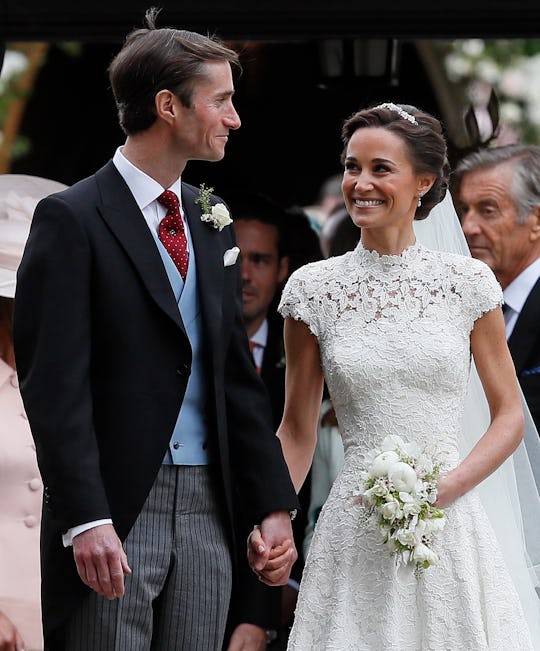 WPA Pool/Getty Images Entertainment/Getty Images
Everything You Should Know About Pippa Middleton's Husband & Reported Dad-To-Be, James Matthews
You might be hearing Pippa Middleton's name a lot more in the coming months. No, this isn't a flashback to 2011 when she first captured the world's attention after appearing as a bridesmaid at her sister Kate Middleton's wedding to Prince William. Pippa's return to the spotlight marks a new chapter in her life — she is reportedly expecting her first child with her husband, James Matthews, according to The Sun. But of course, people have to be wondering who Pippa Middleton's husband is, especially now that they reportedly have a baby on the way.
Romper's request for comment was not immediately returned, and a rep for Middleton declined to comment to People. First, the big news. Middleton and Matthews are reportedly expecting their first child together, allegedly due in October, and Middleton is a little over 12 weeks along, according to The Sun. "Pippa and Matthews have always known they wanted children," a friend of Middleton's reportedly told The Sun. "They have made the most of their first few months of marriage and felt the time was right to expand their family." Cue the excitement.
But before people can start to familiarize themselves with Middleton's reported pregnancy, they might want to familiarize themselves with Matthews, Middleton's other half, who she married married almost one year ago.
Long before they got married and could even think about children, Middleton and Matthews were an on-again-off-again couple, according to People, first getting together in 2012, breaking up, and getting back together again for good in 2015. When Matthews proposed to Middleton in 2016, it reportedly "took her for surprise," according to the Daily Mail, even if Matthews reportedly asked Middleton's father, Mike Middleton, for Middleton's hand in marriage before he got down on one knee, according to the Daily Mail.
If you thought Middleton's life of having a sister who is in the royal family was exciting, then you'll be thrilled to know that Matthews' life is just as cool. Matthews is a little older than you might expect — he is 42, according to People, which is a little bit different from Middleton's age of 34. But because he is a little bit older, it shouldn't come as a surprise that Matthews established in his career — he is a financier who manages a hedge fund, according to E! News, and serves as the chief executive of Eden Rock Capital Management. Even if he devotes his life to finance, Matthews' life wasn't always this way. Matthews was even a professional race car driver in the 90s, according to Entertainment Tonight.
Although he might not have the title of "prince" in front of his name like her sister's beau, Matthews is more connected to the royal family than you might expect — Matthews attended the same boarding school, Eaton College, as Prince Harry and his brother-in-law, Prince William, according to E! News. But Matthews will inherit a title eventually, according to Entertainment Tonight — Matthews' dad, David Matthews, holds the Scottish title of Laird of Glen Affric. And when he passes, the title will fall to James, who is his oldest son (which means Middleton will have the title of Lady of Glen Affric).
But his career and his relationship doesn't take up all of his time — Matthews has plenty of hobbies to keep him occupied, according to The Telegraph. Matthews likes to stay active (even if he doesn't still race cars), partaking in ultra marathons, skiing, and tennis, according to The Telegraph. But other things might soon occupy Matthews' life (like changing diapers and taking care of the baby) with news of Middleton's reported pregnancy spreading across the world.
When Middleton and Matthews' do welcome their first child, it's going to be a known fact that their kid will have some pretty cool parents, whenever it happens.
Check out Romper's new video series, Bearing The Motherload, where disagreeing parents from different sides of an issue sit down with a mediator and talk about how to support (and not judge) each other's parenting perspectives. New episodes air Mondays on Facebook.