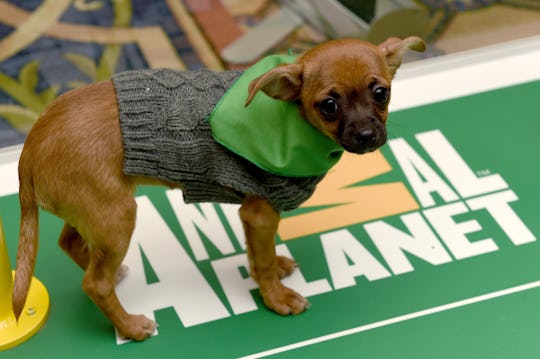 Amanda Edwards/Getty Images Entertainment
Who Is Playing At This Year's Puppy Bowl? Team Fluff & Team Tuff Are Super Cute
With the Carolina Panthers and Denver Broncos facing off in Super Bowl 50 on Sunday, everyone is all too ready to see how this football season will close out. While you probably have your Super Bowl plans all set, don't forget about the event that really matters: The Puppy Bowl. The cute pups have earned a place in many people's schedules in the past few years. Just who is playing at this year's Puppy Bowl? The lineup is officially available, so fans should place their bets now.
The 12th annual Puppy Bowl will air on Animal Planet on Sunday, Feb. 7 from 3 p.m. to 5 p.m. However, if you're all about the Bowl, tailgate kicks off at 2:30 p.m. and will include analysis from commentators that are in the know. Though the event is by no means serious, it supports a great cause. "This year, Animal Planet worked with 44 different animal shelters and rescue organizations from across the U.S. to fill the rosters of #TeamRuff and #TeamFluff with adoptable players for this epic matchup," an Animal Planet press release read.
The network has also teamed up with the Pro Football Hall of Fame to unveil the Puppy Bowl Hall of Fame, a way to honor pups who performed in past Puppy Bowls. In doing so, they hope to promote the adoption of older animals which are often seen as unwanted or less appealing. The press release went on to mention the true impact the Puppy Bowl has had over the years:
While promoting the importance of animal adoption in local communities, these events [Puppy Bowl, Road to the Puppy Bowl] led to more than 3,000 animals finding their 'fur-ever' homes. Animal Planet helped cover the cost of these adoptions.
While the main event will include a starting lineup of 49 puppies, Animal Planet claims the entire Puppy Bowl will include more than 80 pups. Part of Team Fluff or Team Tuff, each dog that takes the field has either been adopted or is up for adoption (something that can be checked on Animal Planet's website). But what is known about these athletic pups? For starters, they all range in age from 12 to 20 weeks old. From Shih Tzus and Chihuahuas to Basset Hounds and Beagles, breeds pretty much run the gamut. And with names like Puddin Pop, Buttons, Miss Sassy — and one even named after Bravo's Andy Cohen — it should go without saying that all of them are absolutely adorable. But don't believe me. You can get your "aw" on with Animal Planet's gallery of the Puppy Bowl pups.
But the Puppy Bowl has cat people in mind as well. The Kitty Half-Time show will incorporate kittens performing a San Francisco-inspired number. Specifically, the felines will strut across state landmarks, including Golden Gate Bridge, Alcatraz, and Fisherman's Wharf. So no matter what type of cute you're looking for, everybody wins.