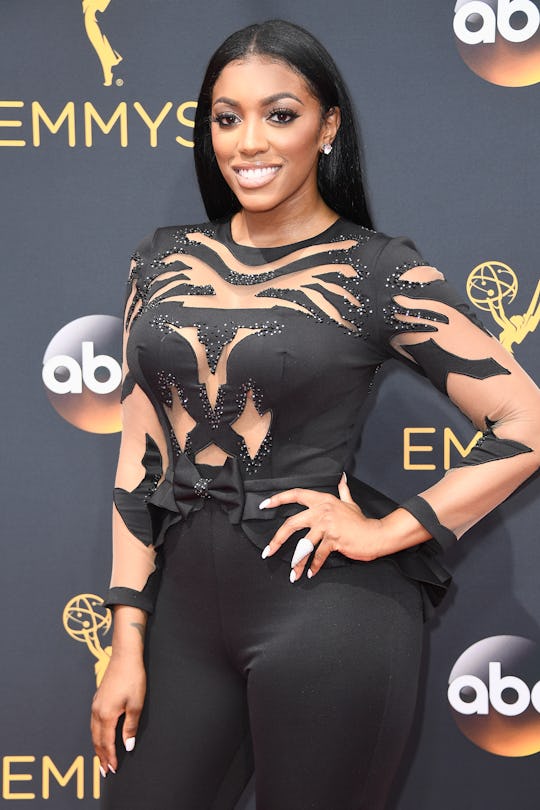 Frazer Harrison/Getty Images Entertainment/Getty Images
All The Deets On 'RHOA' Star Porsha Williams' Bae, Since The Couple Is Pregnant
Porsha Williams rose to fame on The Real Housewives of Atlanta as the wife of former NFL player Kordell Stewart. Since their divorce, Porsha's fame has only skyrocketed, despite no longer actually being a "housewife." Get it, queen! So now that the reality star is pregnant with her first child, RHOA fans may be wondering: Who is Porsha Williams' boyfriend?
In June, Porsha took to social media to confirm that she was dating entrepreneur Dennis McKinley, according to HollywoodLife. The outlet added that even though the couple only started dating this year, they have known each other for years, and that he will be a part of the upcoming season of The Real Housewives of Atlanta, which premieres on Bravo Nov. 4. However, Dennis is so much more than just Porsha's boyfriend... he is also her fiancé! Oh snap!
The couple announced Porsha's pregnancy in mid-September, and about two weeks later, on Oct. 1, Porsha announced that Dennis had proposed. "I said YES," Porsha captioned the photo of her rocking her bling alongside her bae. "Matter of fact I said HELL YESSSS lol!! Love you baby ... I'm ready for the rest of our life!" she captioned another post later that day.
Dennis is not on social media, but luckily, Porsha posts enough for the both of them. (Plus, she uses the hashtag #DM in most posts about her man.) She has shared photos and videos from their sex reveal party (it's a girl!), her ultrasound appointments, and from plenty of nights out on the town, making it clear that Dennis is along for the ride with his fiancée.
When announcing that she was expecting to People in September, Porsha explained that the pregnancy was a bit of an accident. "The pregnancy came from the left, but it definitely has brought us closer together because you realize when it sets in that you are actually bringing a life to this world, that you have become family overnight," she told People. "So now a lot of the things that we had talked about are a reality, and we work really hard at wanting to be a good couple and build a strong foundation for our new family that we're going to have."
That said, it's clear that this accidental pregnancy was a very welcome accident for the couple. As The Daily Mail noted, Porsha frequently spoke about her dream to become a mother on The Real Housewives of Atlanta. Additionally, she suffered a miscarriage while she was married to Kordell, which left her longing to try again. "When I found out I was pregnant, I was excited [but] I had mixed feelings. The other feeling that I had beside excitement was fear," she told People, adding that the fear stemmed from her previous miscarriage.
For those who have been following Porsha's life between RHOA seasons closely, her engagement to Dennis probably wasn't too much of a shock, considering she has dropped a few hints about the possibility of getting engaged this year. "I am definitely going to be opening up about my love life," Porsha said in a video for Bravo's The Daily Dish a few weeks ago. "You will be introduced to someone who I am dating and I don't want to tell too much, but I am super excited about it. He is everything to me," she told fans at the time. "And who knows, you might even be seeing some wedding bells in my future!" she added, hinting that her new man could be the one.
Looks like her prophecy was correct!