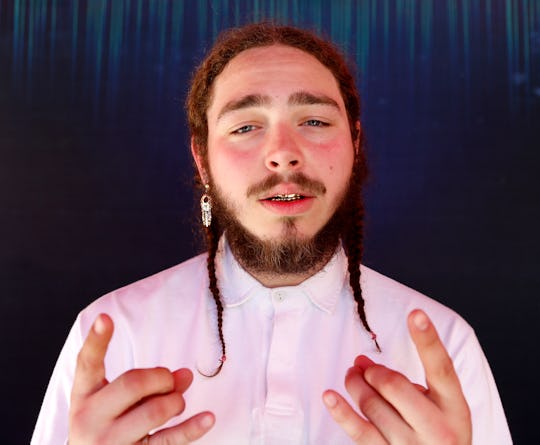 Randy Shropshire/Getty Images Entertainment/Getty Images
You Don't Want To Miss Post Malone's VMAs Performance
Six years ago, a kid named Austin Post growing up in a Dallas suburb was so obsessed with dominating the video game Guitar Hero that he picked up a real guitar and learned to play. Now, that kid, known professionally as Post Malone, is scheduled to give a special performance at MTV's Video Music Awards Sunday alongside greats like Kendrick Lamar and and Lorde — and everyone in the music industry knows who Post Malone is. While the image he projects as a white 22-year-old rocking grills and braids is either cloying or endearing, depending on who you talk to, it's hard not to be impressed with the success of his debut single "White Iverson" and the big-name collaborations it's earned him.
Malone moved to Los Angeles when he was 18, and, at first, he didn't even have the money to buy a pack of the cigarettes he chain smokes, according to Forbes. Not long after that, though, in he wrote and recorded "White Iverson," which catapulted him to fame in February 2015. The song, in which Malone christens himself the white version of basketball star Allen Iverson, earned him a gig performing at Kylie Jenner's 18th birthday party.
From there, he caught of attention of Kanye West, who tapped him for the track "Fade" on his 2016 album The Life of Pablo. That's an incredibly prestigious position for a breakout star whose first big track hit the mainstream by going viral on SoundCloud, but it was just the beginning. That summer, Malone toured with Justin Bieber (whom he now considers to be a "big brother," he told Forbes) on his Purpose tour.
That December, Malone followed up "White Iverson" with a full album called Stoney. His music has been described as "trap folk"; in a profile of the rising star, Complex summed it up "an unlikely mix of folk, country, and trap ballads." And perhaps that strange mashup makes some kind of sense from an artist as idiosyncratic as Malone: He unabashedly appropriates black culture (and arguably crossed the line with his use of a racial slur); he's a huge fan of Stevie Nicks; he wore a pair of Hello Kitty pajama pants to be interviewed by The Los Angeles Times last year.
It's clear that Malone is one of a kind, and that's he's on a seemingly unstoppable upward trajectory. All of which is why his VMAs performance is a must-see for all those pop culture nerds out there.