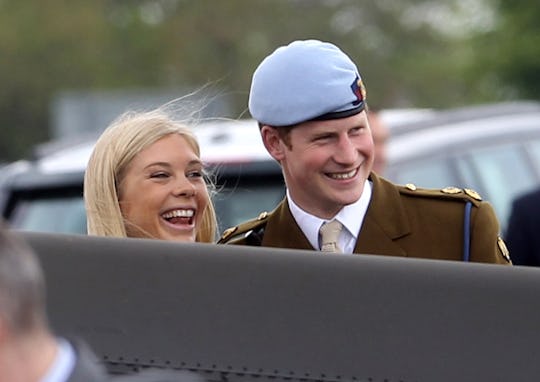 Chris Jackson/Getty Images Entertainment/Getty Images
Prince Harry's Ex Chelsy Davy Is Invited To The Royal Wedding, Kind Of
Although most people wouldn't dream of going to their ex's wedding, many of Prince Harry's former flames have actually received invites to the royal wedding next weekend. Most of them, according to The Daily Mail, are invited to the ceremony, but not the more exclusive reception. One of Harry's ex-girlfriends, Chelsy Davy, is reportedly feeling snubbed over the half-invitation. So who is Prince Harry's ex, Chelsy Davy, anyway and why would she feel snubbed about not getting an invite to the reception?
To be fair, she might have a point. Davy, a 32-year-old Zimbabwean national, dated Harry on and off from 2004 until 2011. Given that they're both so young, they were essentially each other's first loves and grew up together. After breaking up shortly after Prince William and Kate Middleton's wedding (which she attended), she and Harry have reportedly remained close friends and were even spotted together in South Africa in 201, which some in the media presumed to be their "final fling," according to Vanity Fair.
Davy now runs an "ethical jewelry company" called Aya and reportedly offered to make a one-off piece for Meghan Markle as a wedding present. According to Vanity Fair, she was "politely turned down." That's understandable, depending on the relationship between Harry, Davy, and Markle these days.
Davy and Prince Harry were young when they dated and both earned themselves a "party animal" sort of reputation while attending school, according to The South African. Davy attended the University of Cape Town in 2006 and eventually graduated with a law degree, working as a trainee solicitor at the Allen & Overy law firm. She eventually quit and then started her jewelry company.
According to an interview she did with The Times after her and Harry's breakup, it was attending the first royal wedding that spooked Davy a little bit. The media attention got the best of her, she confessed. "It was tough. It was so full on: crazy and scary and uncomfortable. I found it very difficult when it was bad. I couldn't cope. I was young, I was trying to be a normal kid and it was horrible," Davy said in 2016.
She added that the paparazzi really enjoyed catching her and Harry out and about on the town, but not when she was busy doing more serious things. Davy added:
I like to enjoy life, but I like to achieve things and am very ambitious. They can be forgiven for not knowing I was working really hard, I didn't shout about it. If you go out once, they take a picture, but they don't take a picture of you going to work every morning, it's of you falling out of a nightclub at 4 a.m.
Davy is invited to the wedding ceremony on May 19, which will be held in the St. George Chapel at Windsor Castle, with about 600 other guests. The wedding reception is much more intimate, with only about 200 invitees, and she reportedly didn't make the cut. And she allegedly feels a little bummed out about it.Vanity Fair reported that a friend of Chelsy's said:
Chelsy has been telling everyone she has been invited to the wedding and she is shopping for the perfect gown. She wants to look her very best and has been given a plus-one, but she has said she has not been invited to the evening party. Her nose is a bit out of joint but we've told her she's lucky to be going to the actual wedding. She's still hoping she might be asked to attend the evening party, too.
She's reportedly been trying to get in touch with Harry, too. "Chelsy has been trying to get in touch with Harry in recent days but he has taken himself off all social media and is proving very difficult to reach. He always returned Chelsy's calls in the past,' the source told Vanity Fair. Another source told The Daily Mirror, "Chelsy is the queen of night-time parties. She's wild and fun, and no evening bash is really complete without her, so friends are surprised she hasn't been invited. Chelsy is surprised too, shocked in fact, and a little hurt."
That makes sense. But it's also likely that her not being invited has nothing to do with her personally and just making sure everyone is accommodated on that day. Hopefully, there's no bad blood between her and Harry and everyone can enjoy the day.