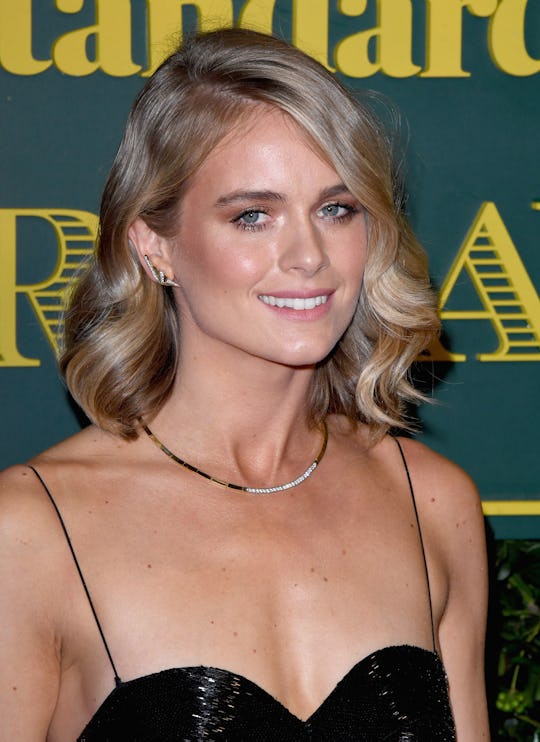 Stuart C. Wilson/Getty Images Entertainment/Getty Images
Who Is Prince Harry's Ex, Cressida Bonas?
As we all know, the royal wedding is only two days away. (Ahhh!) Yep, Prince Harry and Meghan Markle will soon be exchanging vows at Windsor Castle with the whole world looking on. (No pressure, or anything.) In preparation for the grand affair — and to pass the time without going crazy from anticipation — fans of the royal family are probably reading anything and everything they can about the soon-to-be married royal couple: Their relationship timeline, their families, confirmed wedding details, and even past relationships. As many people already know, Markle was previously married. But the details surrounding the groom's past lovers may be a little murky — because there were at least two high-profile relationships, and they seem like a lifetime ago at this point: Chelsy Davy and Cressida Bonas. So who is Prince Harry's ex, Cressida Bonas?
Bonas, who is now 28, is the daughter of entrepreneur Jeffrey Bonas and Lady Mary-Gaye Curzon, The Sun reported. The multi-talented former girlfriend of Prince Harry is an actress, model, and dancer; she even made Vanity Fair's "International Best-Dressed" list back in 2014. Although she apparently comes from a royal bloodline (she is descended from King Charles II), Bonas apparently couldn't handle the pressure of the royal spotlight when she dated Prince Harry from 2012 to 2014, according to the publication.
So how did Prince Harry and the actress meet? Bonas was actually friends with Prince Harry's cousin, Princess Eugenie, who introduced the pair back in 2012, The Sun reported. After two years together, the high-profile couple ended their relationship in 2014. Bonas was reportedly "overwhelmed by the attention she was getting while engagement rumors swirled around the young couple," according to the publication. Although there was speculation that the couple would rekindle their relationship in 2015, that never came to fruition.
"I interviewed quite a lot of Cressida's friends and family members. I was told she didn't love him enough," Prince Harry biographer, Katie Nicholl — author of Prince Harry: Life, Loss and Love — told Newsweek. "She and Harry were very happy and were in love. But, I think, for Cressida, her ambitions were to become an actress, she hated being defined as Prince Harry's girlfriend."
Nicholl continued:
Although she loved him, I was told by someone very close to her that [Cressida] didn't love him enough to make all the sacrifices that entailed being a royal fiancee. When her family started talking about rumors of wedding bells, Cressida was very keen to shut down and say it's too soon for her. I don't think there was ever a real possibility it was going to end in a wedding, because she wasn't ready.
As the royal wedding creeps closer, many have wondered if any of Prince Harry's exes have been invited to the May 19 event — and if they'll actually be attending. The thought of having an ex witnessing your wedding might sound awkward with a capital "A," to the average person. However, it seems to be a fairly normal occurrence for royals, People reported. That's because Prince William invited five past girlfriends to his 2011 nuptials! These included: Jecca Craig, Rose Farquhar, Olivia Hunt, Arabella Musgrave, and Isabella Anstruther-Gough-Calthorpe. So who knows? Bonas could very well be in attendance at Windsor Castle on Saturday.
In fact, Express reported that Bonas is expected to attend this Saturday's royal wedding; Betfair actually halted bets at 10/3. Davy — who dated Prince Harry from 2004 to 2011 — is also expected to make an appearance at the royal wedding. The odds were at 3/1 for her, as of April 9.
Whether or not Cressida Bonas attends the wedding of Prince Harry and Meghan Markle on May 19, it's clear she made the right call when it came to their relationship. Bonas recognized she wasn't cut out for the demands and obligations that come with dating a prince, which is totally understandable. Not everyone is cut out for the intense scrutiny that is the royal spotlight. Meghan Markle, on the other hand, seems like she was born for the job. Plus, Markle clearly head-over-heels for Prince Harry — which is obviously the most important detail of them all.