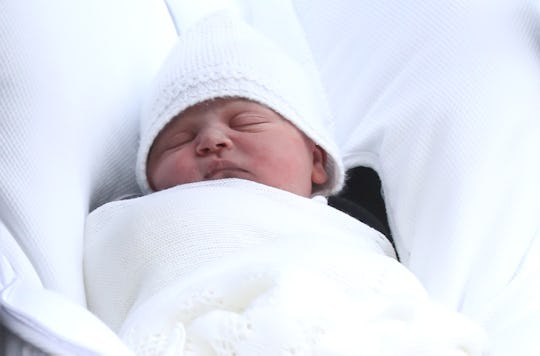 Chris Jackson/Getty Images Entertainment/Getty Images
Who Is Prince Louis Named After? There's A Late-Breaking European Flavor To This One
The Duke and Duchess of Cambridge officially welcomed their third child together Monday at the Lindo Wing of St. Mary's Hospital, and after much waiting and speculation, the couple confirmed that they'd named their newborn son Louis Arthur Charles. Who is Prince Louis named after? Though the couple opted to keep their third child's sex a surprise ahead of the delivery, once it was revealed that they'd in fact had a boy, the likeliest name contenders quickly emerged, with his middle name Arthur a pretty solid frontrunner (I mean, George definitely wasn't going to make the list, and it's not like they were really going to name him Mason or Noah, right?). But in addition to being a typically regal name for a baby boy, Louis is also a sweet nod to the infant prince's European family tree.
Like his brother before him, Louise Arthur Charles appears to have been named to honor his royal roots. Prince George, for example, bears the same name that his great-great-grandfather chose for himself when he took the throne in 1936, according to People, and since King George VI was also Queen's Elizabeth II's father, it also served as a sweet tribute to the Queen as well. Louis, on the other hand, was likely inspired by both Prince Charles' great-uncle Earl Louis Montbatten, and Prince Philip's grandfather, Prince Louis Alexander of Battenberg. (You might also recall that little Prince George's full name is Prince George Alexander Louis, so the brothers now share a name).
Perhaps the one main difference between the naming process the Duke and Duchess experienced with Prince Louis compared to Prince George though? This time around, they were likely not actually naming a child who will one day end up on the British throne. Though it's true that Prince Louis is already ahead of others in the line of succession — like his uncle Prince Harry, for example — he's still only fifth in line behind his big brother and big sister, Princess Charlotte. In other words, little Louis can probably breathe a little bit easier knowing he probably won't ever be expected to serve as the head of Great Britain and the Commonwealth — but it also means that his parents may have had a little bit more leeway choosing his name.
The difference is actually one that we've already seen after the birth of Princess Charlotte in 2015: though her name does still have a royal connection — according to The Independent, it's the female form of "Charles," which means she was likely named after her paternal grandfather, the Prince of Wales — it's also just a popular girl's name. In fact, according to CNN, the name hadn't actually been used by a member of the royal family in over two hundred years before it was given to the young princess, but it did have a close connection to the Middletons: Charlotte is actually Pippa Middleton's middle name.
On social media following Prince Louis' birth though, users couldn't help but think it was at least a bit unfortunate that the Duke and Duchess had already named their first son George, since their newest child was actually born on St. George's Day. The upside? It at least provided some pretty great meme fodder:
In any case, the announcement of Prince Louis' name has still been a pretty big moment in what has already been an eventful few days for royal watchers. And the excitement's not over yet: while the royal baby watch may be over, we're only a few short weeks away from the highly-anticipated royal wedding, when Meghan Markle will become an official member of the royal family. And who knows, maybe if we're lucky, we'll even get our second proper glimpse of Britain's newest prince while we're at it.
Check out Romper's new video series, Bearing The Motherload, where disagreeing parents from different sides of an issue sit down with a mediator and talk about how to support (and not judge) each other's parenting perspectives. New episodes air Mondays on Facebook.