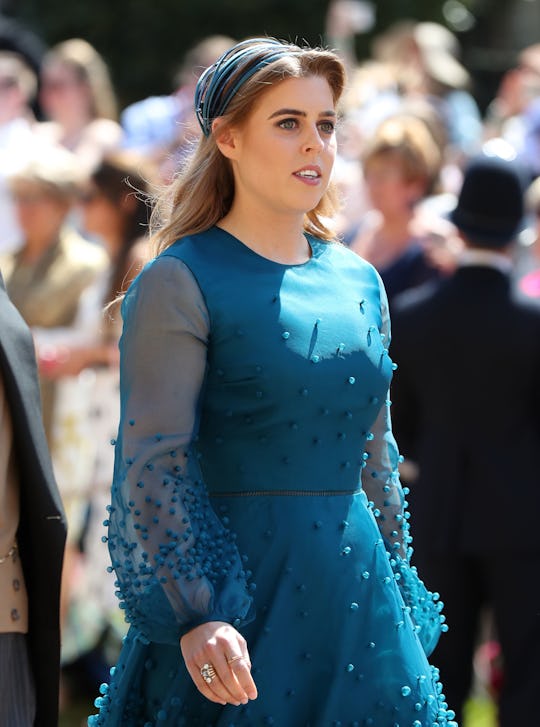 WPA Pool/Getty Images Entertainment/Getty Images
Here's What We Known About Princess Beatrice's Current Relationship Status
Princess Beatrice's younger sister, Princess Eugenie, will tie the knot with Jack Brooksbank at England's historic Windsor Castle on Friday, Oct. 12. And as Princess Beatrice readies to be the maid of honor for her sibling, royal fans may be wondering if she has a love interest of her own. So, who is Princess Beatrice dating and is she expected to bring someone special with her to this royally extravagant event?
The lookalike York sister, daughters of Prince Andrew and Sarah "Fergie" Ferguson, have both kept lower public profiles than their royal cousins in line for the throne. For instance, Princess Eugenie met her guy skiing, as the Mirror reported. But when it comes to bride's sister, knowing the status of her love life a little more complicated.
Princess Beatrice was reportedly involved with Dave Clark, an executive with Sir Richard Branson's Virgin Galactic spaceflight company, and then Uber, for almost a decade, as People reported. They parted ways, and the publication noted that her ex recently married another woman.
It's not clear why they ended things, but it sounds like Princess Beatrice is in a happy place right now.
In fact, according to The Sun, the princess has been spotted out with a hunky lawyer named James Williams, who supposedly moved from England to Los Angeles to help champion boxer Floyd Mayweather on his business ventures, the Express reported. According to The Sun, Princess Beatrice had reportedly been seen out to dinner this winter in Hollywood with Williams. Sounds promising, but as The Sun reported, Williams may have a girlfriend, Lucy Aragon from The Bachelor.
The Sun quoted Aragon as saying that Williams is merely an old friend of Princess Beatrice's, and was just driving her home (in his Bentley) when the two were seen out in Los Angeles.
If you are still following this — and it's pretty hard to do so when my last "date" was an hour away from kids at the corner taco stand — what I think it all means is that... we really have no idea if Princess Beatrice is currently in a relationship with anyone right now.
And as ELLE noted, it doesn't sound like Princess Beatrice is bringing anyone as her guest to Princess Eugenie's wedding, at least anyone who has been confirmed.
And just to be clear, Princess Beatrice — who eighth in line for the throne and the granddaughter of Queen Elizabeth II, according to Fox News — doesn't need a man. She has a good job with technology company Affiti, according to Cosmopolitan, and has a substantial trust fund from dad Prince Andrew (not from the British crown, however, she is not a "working royal") to back her up to boot.
Also, People noted that Princess Beatrice was introduced to her ex by her cousin, Prince William, at the University of Edinburgh, at a party held by Sean Brosnan, son of actor Pierce Brosnan. So I think that fascinating tidbit shows that Princess Beatrice has tons of connections in the world and will be just fine, even if she is dateless at tomorrow's affair.
"It's hard to navigate situations like these because there is no precedent, there is no protocol," Beatrice told Vogue's British edition this month of how the York princesses try to balance royalty with a semi-normal existence. "We are the first: we are young women trying to build careers and have personal lives, and we're also princesses and doing all of this in the public eye."
These super-tight sisters call each other their "rock," according to Vogue. So date or no date, one thing is for sure: When Princess Eugenie walks down the aisle, Princess Beatrice will have her back (and probably her train).