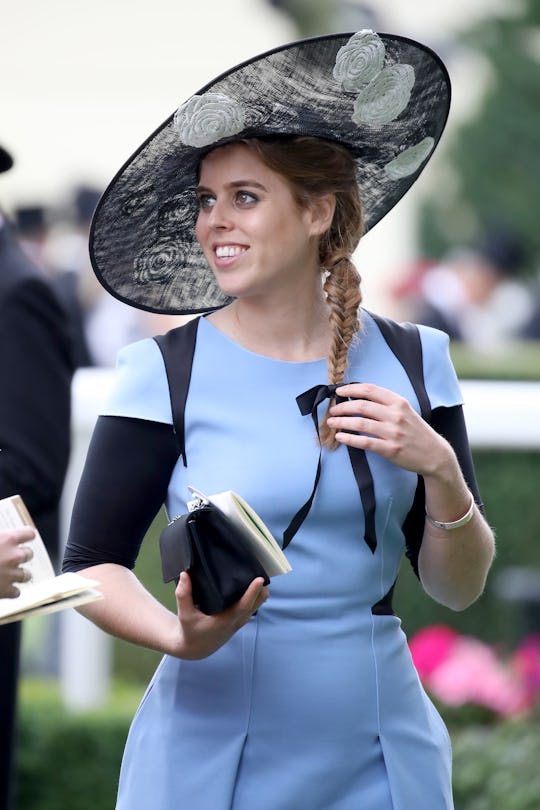 Chris Jackson/Getty Images Entertainment/Getty Images
Everything You Need To Know About Princess Beatrice, Princess Eugenie's Older Sister
Princess Eugenie is just a day away from nuptials and the global press has been clamoring for every detail about the occasion. One name seems to always be mentioned alongside the bride-to-be: Beatrice. So just who is Princess Beatrice, Princess Eugenie's sister and seemingly close friend?
Princess Beatrice, 30, is Princess Eugenie's older sister, though by a scant 19 months, according to People. As the daughters of Prince Andrew and Sarah "Fergie" Ferguson, Duchess of York, the girls have grown up in the public eye. Whether or not they were actually good friends from the start, their parents often dressed the girls in matching outfits, as People reported, certainly giving the illusion that they were as tightly bonded as near-twins.
And it sure sounds like they're close; Princess Eugenie has chosen her sister as her maid of honor, a decision the palace recently announced, sharing photos on Instagram of the two as young girls. The palace also shared a snap of groom-to-be Jack Brooksbank with his brother, who is also best man, Tom.
Princess Beatrice grew up in what she called a "regular" household, as she revealed in a 2018 feature in Vogue. Though their home is a mansion on the grounds of Windsor, according to Vogue, the "sheer volume of needlepoint cushions" gives it a lived in and "distinctly normal quality."
Princess Beatrice graduated from Goldsmith College in London in 2011, according to The Evening Standard, with a double major in History and History of Ideas. Since then she's worked a day-job, currently serving as vice-president of partnerships and strategy for New York City-based Afiniti, a technology company, as Vogue reported. To keep up with her family responsibilities and British patronages, she splits her time between England and the United States, the magazine explained.
Princess Beatrice's charitable efforts revolve around children and education, according to the website for the Duke of York. Since she is dyslexic, as noted on the website, she is interested in organizations that tackle the issue and promote education for those with learning difficulties. The website also tells of the The Big Change Charitable Trust, an organization founded by Princess Beatrice and six of her friends. The focus of the Trust is to support organizations that work to improve the lives of children and young people. Their first fundraising effort was 2012's The Big Climb, during which Princess Beatrice and the others climbed Mount Blanc, according to the organization's website.
But one of Princess Beatrice's most important roles in life may be that strong bond she shares with her sister. "We're each other's rocks," Princess Eugenie told Vogue. "We're the only other person in each other's lives who can know exactly what the other one is going through." She also spoke about how her older sister has been a source of strength and comfort for her, telling the publication: "When we were younger, I always used to make her go into parties first. I'd hide behind her and she'd make the first move, then I'd get louder and louder as she made me more confident."
This week though, all eyes will be on Princess Eugenie as she walks down that aisle. And a few on Princess Beatrice too, as the world enjoys her pride and happiness for her best friend.