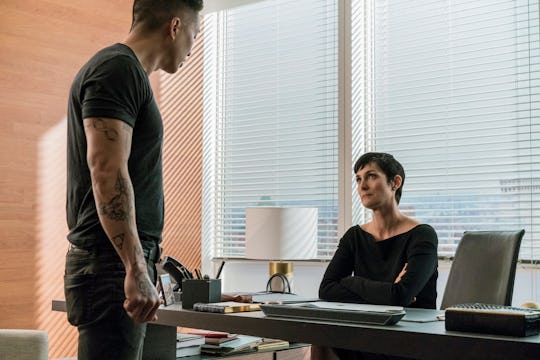 David Giesbrecht/Netflix
'Jessica Jones' Season 2 Introduces An Intriguing New Foe
Warning: this post contains spoilers from Season 2 Episode 1. An all-new season of Jessica Jones is finally here and with a new season comes new characters. In the very first episode, viewers were introduced to a character by the name of Pryce Cheng, played by Terry Chen. So who is Pryce on Jessica Jones and will he prove to be an important figure moving forward?
It doesn't seem like Pryce was ever in the Jessica Jones comics or in any Marvel comics, for that matter. Instead, it appears Pryce was a character made up for the TV series and therefore it's difficult to know what exactly his role will be on the show. However, right now, he definitely seems like a villain, though the non-supernatural kind.
When Pryce first appeared it was for a meeting at Jessica's office, which doubles as her apartment. However, he wasn't there to hire her as a private investigator, he was there to offer her a new job. You see, Pryce is also a PI, though the way he put it, he runs a "risk management firm," called Cheng Consulting. In order to eliminate his competition, he wanted to absorb Alias Investigations into his own company. Naturally, Jessica wasn't the least bit interested. Instead, she decided to dedicate her time to discovering a secret about Pryce she could use against him so he couldn't put her out of business.
When that didn't work, Jessica decided to get Pryce by stealing one of his client. He got angry and therefore worked extra hard to get under her skin. He taunted her by throwing some assumptions he made about her life in her face, however things got very serious when he then mentioned Kilgrave.
It was then that Jessica pretty much lost it and, unfortunately, she ended up beating Pryce to a pulp and getting arrested. Thankfully, Trish was there to bail her out, and although she'll have to pay for the property damage, Pryce's medical bills, and attend anger management, as Trish puts it, "It could've been worse."
Later on in the episode, it was revealed that it was actually Jeri Hogarth who hired Pryce, so she could work with Jessica through him. If you don't recall, Jessica and Jeri didn't end on good terms and the two haven't kept in touch. It's unclear what exactly Jeri wanted to hire Jessica for in the first place, but that'll probably be revealed at some point. For now, Jeri was ready to call her partnership with Pryce null and void, but Pryce wasn't having that.
Believing Jessica got off with a slap on the wrist after beating him up, he wanted to hire Jeri so he could sue Jessica. At first, Jeri was against the idea, noting that Jessica doesn't even have any money since all her profits going to drinking. However, after some thought, Jeri decided to take Pryce's case. Again, it's unclear what exactly Jeri hopes to gain from all this, but based on her doctor's appointment at the end of the episode, it looks like she might not have much time left to get whatever she wants from Jessica done.
With Pryce and Jeri teamed up against Jessica, this could become a serious problem for her. However, at this point, Jessica has bigger fish to fry. Despite her early reluctance, by the end of the episode, Jessica realized she needs to delve back into her past and learn more about the mysterious organization that created her, before the other monster they created is able to track her down.
Check out Romper's new video series, Romper's Doula Diaries:
Watch full episodes of Romper's Doula Diaries on Facebook Watch.