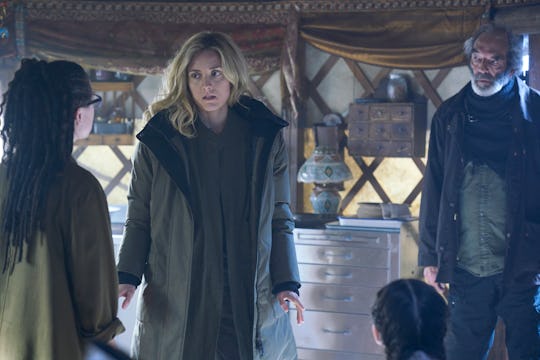 Ken Woroner/BBC AMERICA
'Orphan Black' Season 5 Has A Lot Of Explaining To Do
Orphan Black is back for its fifth and final season after dropping a huge bombshell at the end of Season 4. Evil clone Rachel finally freed herself from captivity and murdered her mother Susan Duncan in order to snatch back power over the Neolution board. While Susan was slowly bleeding out, Rachel asked who made her new eye and Susan replied, "It's the man behind the curtain. The man who wrote the book over a century ago." So who is P.T. Westmoreland on Orphan Black? It seems impossible, but at the end of the Season 4 finale, Rachel meets the founder of Neolutionism himself.
Of course, the significance of this particular reveal is that P.T. Westmoreland wrote the book on Neolution during the Victorian Era. So how is someone who wrote a book in the 1870s or 1880s still alive? It seems pretty clear that he's been self-administering the same gene therapies he's been discovering in the formation of Neolutionism. Earlier in the episode, Cosima found herself rescued by a small community living in huts on the island, where Delphine is alive and well. The camp is called Revival and it's the presumed home of Westmoreland. It's also going to be the manifestation of the show's series-long Island of Doctor Moreau obsession.
Said showrunner Graeme Manson to Entertainment Weekly about the new setting:
We have our Island of Doctor Moreau fetish on Orphan Black, as well as our Mary Shelley Frankenstein and our vintage science-fiction respect. So, we had this vision of an island, and [co-creator John Fawcett] in particular had a directorial vision of a mysterious village that we discover on the island, and it kind of got us juiced on The Island of Doctor Moreau, Lord of the Flies, a bit of Apocalypse Now thrown in there. And again, we're setting the table for next year. Who are these people? And what are they doing there? That will be pretty fun to figure out.
The show creators confirmed on a San Diego Comic Con panel that Westmoreland is not exactly a bad guy, but everything is obviously not above board with him. Manson confirmed at a PaleyFest screening of the Season 5 premiere that we'll also be introduced to some "strange creatures" on the island where Sarah is awaiting rescue and Cosima is recovering. It looks like Orphan Black's last season will finally go full-tilt sci-fi, bordering on fantasy, for a grand finale, and fans are here for it.