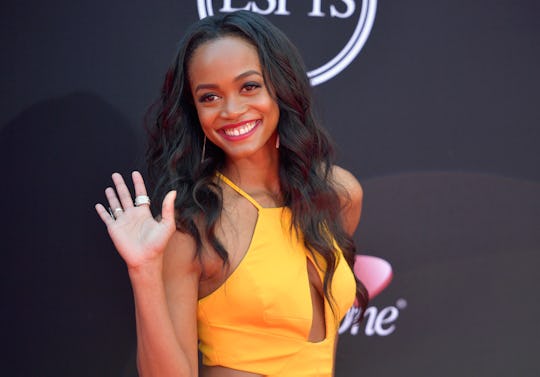 Matt Winkelmeyer/Getty Images Entertainment/Getty Images
'Bachelorette' Fans Already Love Rachel Lindsay's Mom
Rachel Lindsay's family first won us over during Nick Viall's season of The Bachelor, where she made it to hometown dates before eventually getting cut in Finland. Fans saw Nick meet her extended family in Dallas, with the exception of her dad, who opted to meet Nick off-camera due to work obligations. Viewers did get to see her mom, however, who addressed the "elephant in the room" right away and asked if Nick had ever dated a black woman before. Needless to say, Twitter instantly fell in love. But who is Rachel's mom on The Bachelorette? You can bet Kathy Lindsay is a powerful woman, being married to the first black judge to serve on a federal District Court in Dallas. And that's to say nothing of the fact that she's the mom of the first black Bachelorette.
She handled meeting Nick last season with aplomb, gently reality-checking his slightly naive "love is colorblind!" approach to an interracial relationship. "It's about you two," she said to him during Rachel's hometown visit, "But society will see it." She also bravely asked him if Rachel had any red flags that concerned him going forward, which is a bold question to ask your daughter's potential fiancé. Nick seemed to pass the test by admitting that he realized Rachel wasn't perfect, so hopefully the guys Rachel brings home this time around know that the way to Kathy's heart is not necessarily through putting her daughter on a pedestal.
In her non-Bachelor franchise time, Kathy works as a Mary Kay Consultant, which she's been doing for the last five years. Before that, she was computer teacher for Pre-K-12th graders at First Baptist Academy — a position she held for an admirable 20 years. Prior to teaching, she worked as a computer programmer for 15 years. She's also a grandma to toddler Alistair Quinn and newborn Hendrix Zane, the sons of Rachel's older sister Constance.
The warm fan response to Rachel's incredibly charming and down to earth family almost certainly played a role in her being chosen as the Bachelorette. (Remember how hilarious and beloved JoJo's mom was during her hometown visit with Ben Higgins and then bam! JoJo's the Bachelorette.) But you can bet Rachel's family will likely be a million times tougher when it's three guys vying for her hand in marriage. Hopefully at least one of them succeeds at impressing the family matriarch.